My regular readers will know I am not a sampler. I don't put extra warp on the loom, weave a piece, cut it off, and wet finish it to learn things. I just go for it.
Why, then, did I feel a need to do some sample dyeing? I can't really say. But I did it with the black and white to learn what strengths and techniques would work for my concept. And learn I did. So I did it again, with 6 mini-bouts of yarn. It was sort of a pain, measuring out those bouts, carefully marking them with threads so I'd know which was which later on, preparing them for hand painting, mixing the dyes, doing the work, and then waiting. But I did it. AND wrote everything down! What a crazy concept!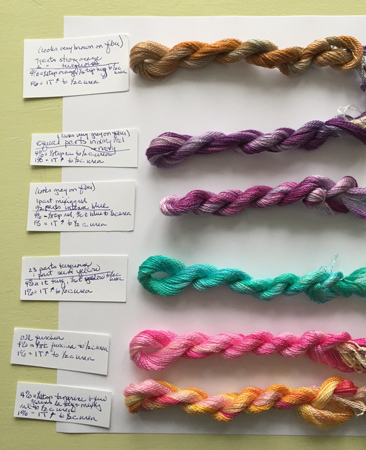 The reality is that I was using such tiny amounts of dye for these mini-bouts that I likely can't match those color results exactly, but I can get closer to achieving an actual outcome of what's in my head. I'm sure that I'll often choose to go with serendipity, but I had a concept I wanted to try out, in hopes that it'd be a great jury piece, and it would require actual planning.
After those dye samples I prepared two fairly large bouts – 248 threads each, 8+ yards long. I dyed one in terra cotta (remember my terra notta experiment of months ago?) and one in teal. The terra cotta is lighter than I wanted teal is actually turquoise and brighter than intended, but both will work for my purpose. I think.
I'll be warping my loom with these yarns today. Keep your fingers crossed that I can achieve my vision.
So in addition to actually sampling, here are two other things that aren't like me. A bit of politics on my blog. Although I have strong opinions, I won't share them here. I will tell you that I think voting is a critical thing to do, and that there is a unique opportunity in 2018. If you're not already registered to vote, do it now! And then vote in November. And if you're so inclined, run for office yourself. Stand up for what you believe in in whatever way(s) you can.
My last not-like-me is actually sort-of-like-me. My participation in the soul line dance group has reminded me just how much I always liked dancing, and how happy I am to re-introduce it in my life. I distinctly remember having a sweatshirt with this image and words when I was a kid. Not sure if it was black or navy blue, but I loved wearing it.
So when a friend told me about a silent disco being held here in Rochester, I was all over it. Sign me up! We went on Friday night and met a few other friends there. I. HAD. A. BLAST!! Can't wait for the next one, likely months away. (The photo is lame, as people were just starting to arrive, and none of the photos I took later in the evening turned out well.)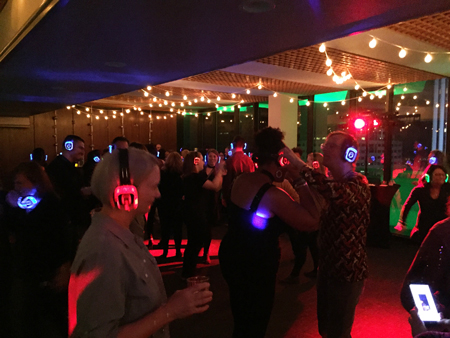 Parting shot: I was down with a cold/flu for 2 days this week. Jack was very patient with me, but was clearly extremely bored – even more than usual with my activity – or lack thereof. I always find it humorous when he uses this little bed as a pillow.