Although all of my looms (2 floor looms, 1 table loom, 1 rigid heddle loom, 1 inkle loom) were naked on New Year's Day, I'm off to a good start on my weaving goal for 2018. The afternoon of 1/1 I measured out a warp of Pansy 20/2 silk for that great draft I showed in my last post (thanks again to Tara Oftenorth).
I started by auditioning several weft possibilities I could immediately identify.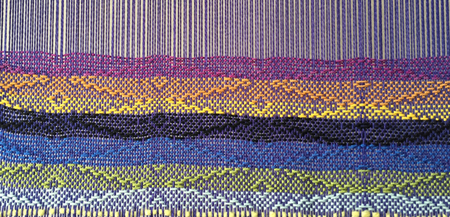 From the bottom, they are pale silvery blue (sax), chartreuse-y green (felt green), marine, black, yellow, golden, and magenta. I was surprised by what I did and didn't like.
For a really classy look, I started with that marine. I love the draft, the look, and this shot.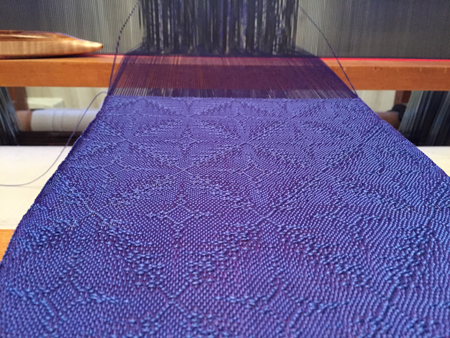 I'll choose a weft with much more contrast for the 2nd scarf, as I need to make a few pieces for this year's jurying. Much as I love the look with that marine, I'm not sure it will photograph well, even with the great professional photographer I use. Best to give him a few options. (In case you're wondering why it might not photograph well, jury photos can't be a closeup of a section of a piece, they must show the entire piece. Not sure how this one would work.)
On the sewing front, I cut out and began sewing another tunic, from the first pattern, using some 100% cotton 'quilters cotton' I'd purchased at Joann Fabrics. It was very problemmatic in ways I can't even explain. After getting everything but the sleeves done I tried it on and hated it. It was clear it wasn't going to drape, and the print, which I'd liked on the bolt and while cutting and sewing, just made me look like a weird, fat, old lady. "Walk away," I said. Then I went online and sought out what made something a quilters flannel versus one made for clothing. I quickly got to a place with lots of users saying what a problem Joann's quilters flannel was, including how quickly it pilled. That did it for me. I will most definitely NOT finish that top, AND will find somewhere else to buy fabric for clothes.
Yesterday I went to a small, privately-owned store fabric store nearby. I got an absolutely gorgeous 100% cotton corduroy with some stretch and a great drape. Never even seen such a thing before. It's been through the washer and dryer, and I'm looking forward to working with it.
But I've gotta get some weaving done today. Plus, I've decided that for my jury photos, I really need to have a handpainted piece, whether it's a shawl (preferably) or a scarf, to reflect what I'm currently doing. Which means I need to think about color and do some more dyeing. There's no end to things to be done. Thankfully I enjoy them all!