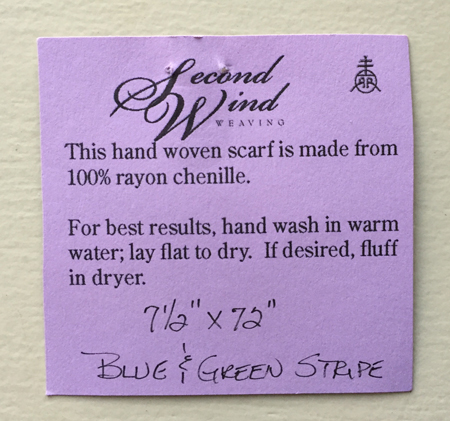 I haven't liked my hang tags for a long time. A. Long. Time. I can document 3 years, because that's when I posted a question on Weavolution in the Professional Weavers group. I've tried to remember to look at the tags of other weavers at shows, sometimes forgetting, other times unimpressed with what I saw.
As shown above, my old tags were printed on card stock. Federal law requires that every item is marked with fiber content and care instructions. I had to create tags specifically for every fiber and fiber combo that I used. Invariably I didn't have the tags I needed when I was preparing for a show and had to make new ones. Then I'd write the size and some kind of title on the tag so that when the item was purchased I might have some clue for my records what it was.
The tags were marginally acceptable on day one, but when the piece got rolled and packed up for the night, the odds that the tag would be wrinkled were high, so it didn't take long for them to look ratty.
A few months ago I decided I couldn't wait any longer to upgrade my tags. I talked to a local printer and was pleased that they had a somewhat flexible, durable, non-rippable stock they could print on.
Then I set about designing the new tag. The new stock (called Poli Print) couldn't be folded well (a good thing) to make a tiny booklet, which was my original vision, so I had to re-design a few times. The tag had to be small enough to look good, have all the information I needed on it for various fibers and care instructions, plus my branding and contact info.
I got them back early this week, and although not perfect, I figure after 3 years they are just fine.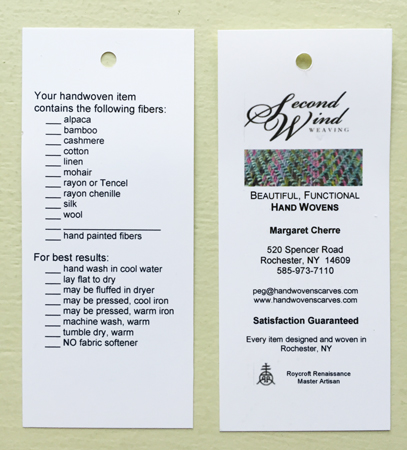 I will check the appropriate lines for fiber content and care instructions. I'm betting it won't be long before I use some fiber that isn't listed, but I tried to include all the ones I use. Then I'll still have to hand write the size and title, which I wish I didn't have to do since I think it detracts from the professional look, but typing that info on small labels (like return address label size) and then sticking them on seems problematic, too, although I may try a few.
People have to be able to see both sides of the tag, so I can't simply pin them to the piece as I did with the old tags. I spent last night cutting strings for hanging, knotting and trimming, and inserting them in the hole, and got 125 tags done. I cut the strings for another 300 tags, and may do some more knotting, trimming, and inserting tonight. My obsessive nature likes to get things like that done in advance.
Three years — can you believe it?!