Many months ago I bought a toy for Jack. A small, blue, rubber, squeaky blowfish. We played fetch with it every day, sometimes both morning and evening, inside and outside. Fishy was clearly Jack's favorite toy. He made noise so if Jack didn't see where he went he'd hear him. His size was perfect for Jack's small mouth, and his rubbery squishy-ness was just right for Jack's gentleness. Fishy had projecting fins, tail, and spikes, so he bounced erratically, making him more fun. He was just the right weight to carry the perfect distance when I threw him.
Then one day Fishy's squeaker popped out. Jack and I were both sad. I went to the store and they told me they had one at their other branch and would get it sent to my branch and call me.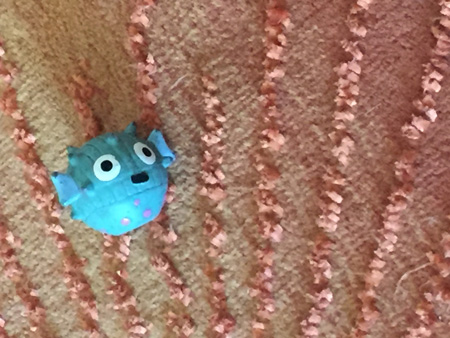 Several days later there was no call, I so called them. There was no record of my request so we started again. A week later I called back again, this time getting a manager on the phone. He apologized and told me that according to their inventory the other branch had 10 of the toys, and that he would personally make sure they got sent over and I got a phone call.
More days went by. The manager called and told me their internal inventory was wrong; they had none in stock. He'd call the company they order from and see if he could get me one. "Get me two," I said. At this rate I'd want a backup.
Meanwhile we tried small balls of various materials. Rubber bones. Plush animals with squeakers. Knotted ropes. None were anywhere near as pleasing to Jack as Fishy. Some too small and rolled under things so he couldn't reach them. Some didn't throw well. Some were too quiet, others too loud.
At least a week went by and I got another apologetic call. So sorry, none to be had in the small size (called mini) I needed; only the large size was available.
While we were waiting Jack and I kept playing with a silent Fishy, who was looking decidedly worse for the wear. Still nice and soft, still bounced good.
Finally I went online to see what I could find. While I could find a few mini blowfish, they were at a real premium….apparently not being currently manufactured.
However the company had 2 other mini animals that I thought would be fine. I bought 1 of each, figuring I'd put 1 in reserve. They just arrived – an owl and a pig.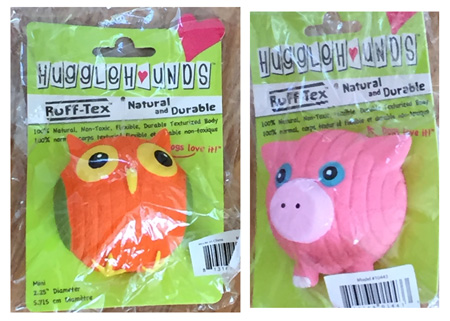 The owl is pretty round so he won't bounce as erratically as Fishy, but we're going to start with him anyway. Pig will wait in the cupboard.
Owl is a hit!