Recently I made a few winter salads that I really liked. The first one had quinoa, kale, roasted sweet potato and sunflower seeds with a maple vinaigrette dressing. I added chopped apple, which was great on day 1, but made everything too sweet as the salad aged.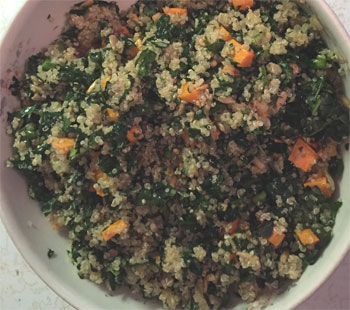 Next up was barley, kale, pomegranate, and dill with a dressing of olive oil & wine vinegar. Very heart healthy.
—————————————-
A few days before they dye workshop I took a color workshop. While I didn't learn new things, there was a lot of reinforcement of concepts. My color choices are made by what my eye likes, not color theory. I can't tell you the last time I used my color wheel to consciously choose colors. As a result, I often overlook complementary color combinations.
We did a lot of wrapping of various color combos on black foam core board to see how things worked together. I didn't photograph mine but did take pix of some of other people's. Here I combined them in one image.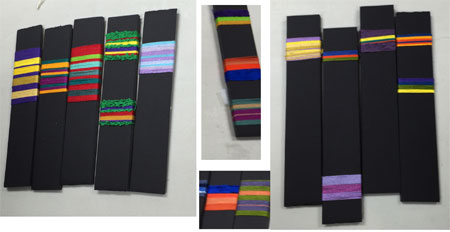 Here's an example of a little sample tapestry the teacher had made. She used some color combos I would never have put together, yet it is so striking!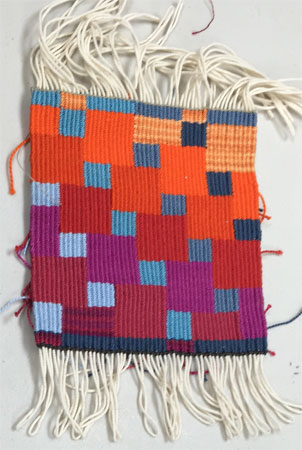 Would I like a whole piece of it? I can't say. But I'm hoping that some of what I saw during the day will stick with me and I'll be a bit more bold and planful with my color choices. In fact, it's the reasons I chose to make one of the scarves in my last warp with a variety of colors. We'll see how it looks when it's all finished.