Despite what I said on Wednesday, the weather Thursday was so beautiful that I had to go out and work in the yard. Besides, with rain coming, it only made sense to get some things in the ground, didn't it?!
So first I dug up this small plot. Previously it held only violets, and it's location between my walkway and the neighbor's fence seemed perfect for a few peas. They could climb on his fence and I could pick them right outside my door. Dig out violets, add leaf mulch, plant about 15 peas.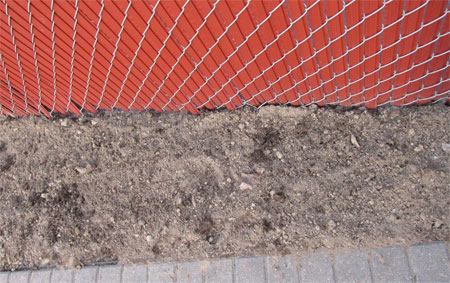 Then I thought, "Hmmm. Maybe it's not really sunny enough there for peas. And since peas need something to climb on, why not plant right along your fence, on the opposite side of where the flower garden is? After all, it's full sun there, for sure." So that's what I did.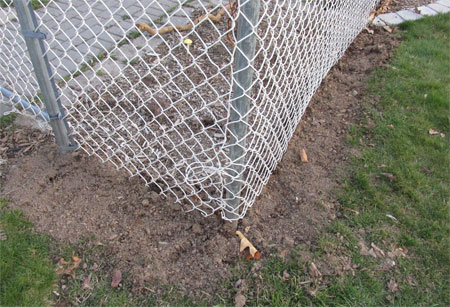 Then I called my old country neighbor, a true farmer who grows most of the food for her family. I wanted Becky's insight into when she puts potatoes and carrots into the ground. She confirmed what I remembered from prior conversations: put potatoes in now. If the tops freeze, it's fine; in fact it makes the potatoes sweeter. The carrots have to wait a few weeks.
So I dug this area.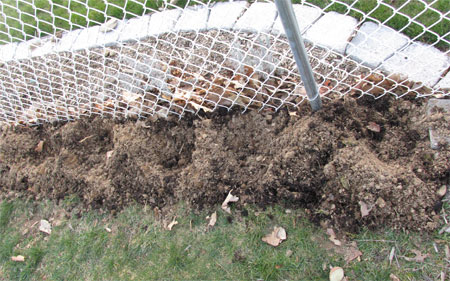 I only had a few organic potatoes with eyes in the kitchen, and made 8 or 9 sections of them. I've never grown potatoes before, and after I had all the work done, I was left with lots of doubt. I'm not at all sure that the area I dug is wide enough for potatoes to grow. But I planted them nonetheless. Then last night I was wondering to myself why I used my precious fence space for potatoes? After all, they're not climbers like peas, nor do they need supports like tomatoes. Although I'd like to get more potatoes into the ground, probably next week, they won't go next to my fence. I'll save that space for tomatoes and/or sweet red peppers and/or ……?? I also want to plant some kale and lettuce, and think I'll do that right out front in my flower garden, where there's also full sun and plenty of space.
This morning, before I did my walk and Jack's walk, I loaded my buckets into the car and went back and got more mulch. No big containers, just 6 five-gallon buckets. I believe I'll have enough for all I want to do this year. At least I hope I will.
Needless to say with all that physical labor I didn't get much weaving done. I did start AT's wrap as planned. What a difference!

And here I've compared the two wraps on a shot from under the loom. Reminder: LV's wrap is woven with a natural weft, AT's with a dark gray weft.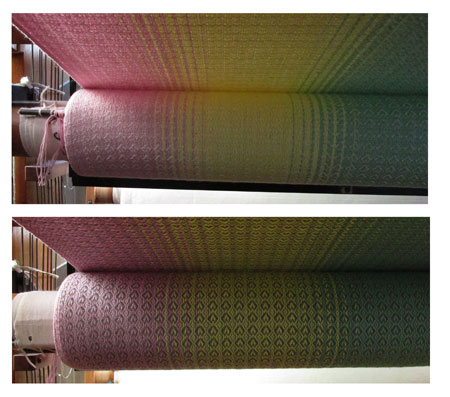 I got quite a bit of weaving done today. Less than 70″ left to weave. Although I am tied up all morning, I may be able to get that woven tomorrow afternoon. If not it'll have to wait till Monday, since I'm fully committed on both Saturday & Sunday.