MP's second wrap on that gradient warp is a different tie up & treadling — a simple zigzag (also known as straight treadling on a point threading).
To my eye, it shows the gradients better.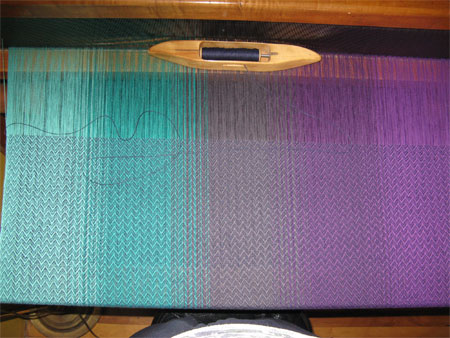 The weft on this one is a organic cotolin (60% cotton, 40% linen) in marine. I like the softer color, too. Here's a closeup of the weaving pattern. (I tried several times to get the colors accurate – no go. They're much more vibrant in real life.)

I'm really glad that the cotolin isn't like working with the linen – it's as easy as working with cotton.
I'll finish the weaving either today or tomorrow, then hemming, wet finishing, pressing, & labeling. I believe they'll be ready to mail on Monday.
Here's the box of yarn for the next 4 wraps. No peeking!