No, not the new year is looming, but rather what my looms look like as the new year dawns. The idea of photographing your loom(s) on New Year's Day has become an annual invitation by Meg over at Unravelling, and this is the 2nd year I've joined the fun. Without further ado…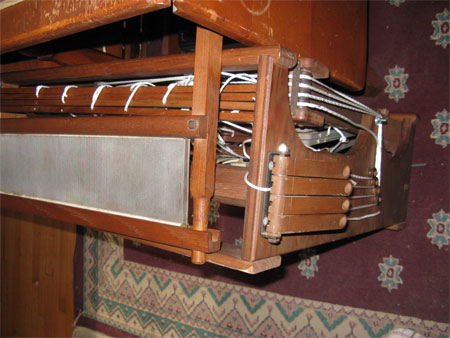 Above, the Missouri loom, folded up and awaiting its next warp. I broke two pegs when the table sort of collapsed on me while I was experimenting to see if the loom would fold with a warp on it – while I was weaving my first warp on it last week. I need to fix that before it's used again later this month.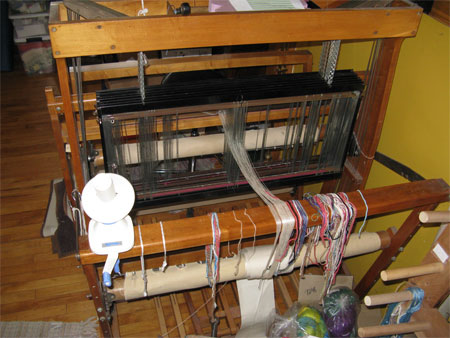 The Macomber (above) still has leftover cotton on it from my special bookmarks woven as Christmas presents. Plus the back beam is a great place to hold many things, from my ball winder to the choke ties I use when measuring a warp on my warping board.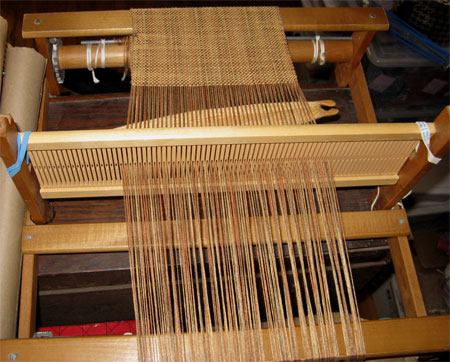 My little LeClerc rigid heddle (above) has a warp on it that I was using to demo weaving at the Roycroft Winter Festival. I'll finish it up soon…perhaps.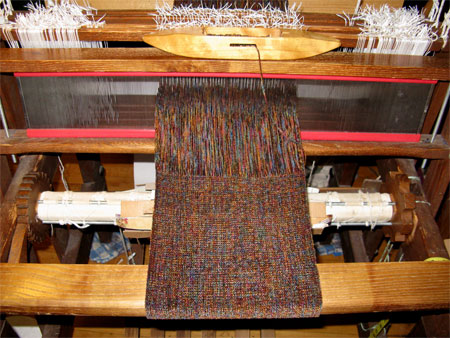 Last but certainly not least, my lovely counterbalance loom has a space dyed rayon chenille on it – rich brown with flecks of gold, blue, green, magenta, and more. The seller called the color Countryside, but I don't think that's a good name. I haven't yet come up with exactly what I think it should be called, but I will before I finish weaving this warp of 3 scarves.
Looking forward to a great year of weaving.