Unlike most weavers that I know, I am happy to do custom weaving for people. Last year I made a very bulky organic cotton scarf for a woman with multiple chemical sensitivities. This year she wanted to order a few more scarves, but in a lighter weight for when it's cold, but not freezing. She ordered two for herself and one for her husband. I sent one of hers and her hubby's out on Saturday morning, so they should get them on Tuesday. Unfortunately AFTER the entire northeast was hit by a heavy October snowfall.
She picked the colors and designs — all the yarns are organic cotton chenille. I like her first one a lot.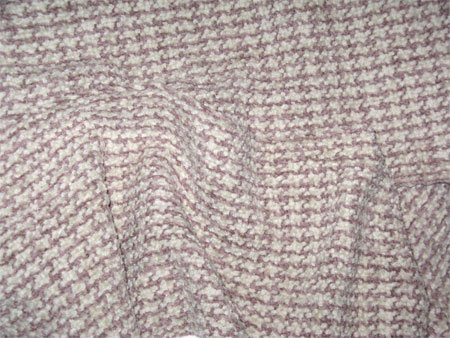 The dark color is called heather, an apt name for this lavenderish-brownish color. There's plenty of contrast with the ice yarn to make a great houndstooth pattern. The white is more prominent in the design as it's a bit thicker than the heather.
Her husband wanted sage & mocha, and also a log cabin design. I probably should have been clearer that the design wouldn't show up well with these two colors of such similar value – it's extremely subtle. The scarf is still nice and soft, so hopefully he won't be disappointed.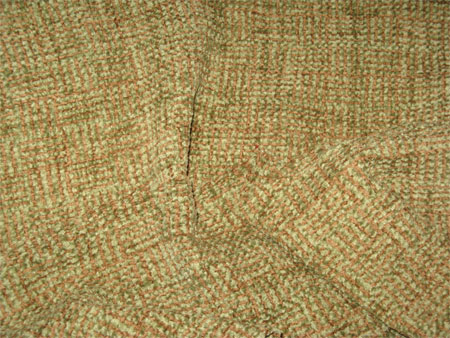 I can't make the other scarf she ordered until I finish weaving the bookmark warp I put on my Macomber loom. I warped it up so that people could try their hands (and feet) at weaving while they were here for the Allegany Artisans tour. I need to cut off their bookmarks and mail them out to them, then weave the rest of them up. I was hoping to do it today, but the flu hit, and I've spent virtually all day on the couch. Maybe I'll feel better tomorrow.