I'll be mostly working on jewelry for the next few weeks.
Once again, I'm really glad that I keep all my business records on QuickBooks; with a few clicks of the mouse, I could pull up a report from last year's sales at Letchworth to give me some idea of how many pieces I had to have this year. I had to make at least enough new pieces to equal the number of pieces in each category (earrings, bracelets, necklaces) as I sold last year. I was surprised that I had sold lots more bracelets than earrings. Was it because people weren't buying earrings, or because I didn't have the kind of earrings they were looking for? I assume the latter.
In any case, I didn't think to pull up that report until I had already made 31 pairs of earrings in brand new designs, and now I know I need to focus more on bracelets and necklaces. That's fine, and I know that I'll create earrings to coordinate with them as I make them.
Here's a new necklace.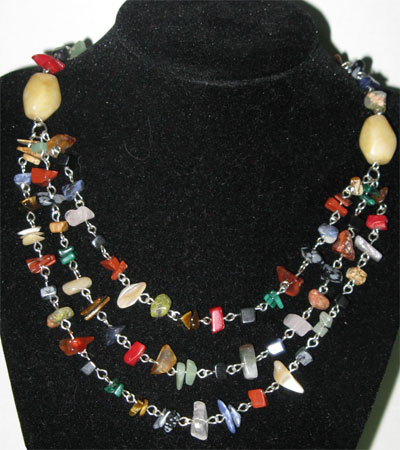 I've made similar things in the past, but not for a few years. I've always been attracted to a multitude of gemstone chips, and my customers seem to like them, too. Obviously, by this time I've gotten back into a routine of being able to replicate loops repeatedly – I had to make two loops of sterling wire for each gemstone chip in the necklace.
Then I had an idea for another new kind of triple necklace. (I'd made triple necklaces in the past, which had been quite popular, but which I didn't want to make them just like that again.) I'd combine the idea of my triples and my convertibles (wear a long necklace, or a take a piece out and wear shorter necklace and a bracelet). I had a lot of freshwater pearls, so tried out the concept with them.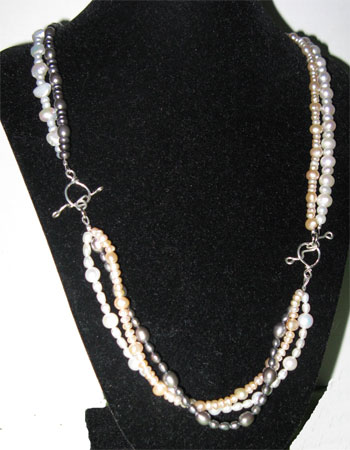 The 3-in-1 necklace has three (relatively) identical, handmade clasps. Hook the three sections together for a necklace that's about 23″ long. One section has three strands of pearls; two sections each have two strands of pearls.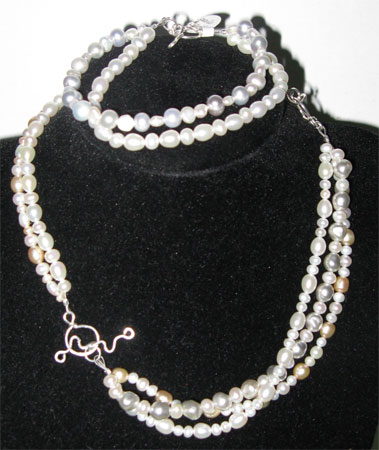 Take one section out, forming a choker and a bracelet. Or wear it as three bracelets, for 7 strands of pearls around your wrist. That's multi-purpose, and will hopefully be appreciated by buyers.
Astute readers will notice that the two necklaces aren't identical. I liked the first one well enough that I made a second, using more subtle colors of pearls.
I tried the concept a third time, using onyx, red jasper, and turquoise. Although I like the way it looked, I won't do it with other gemstones again. Other gems are so much heavier than pearls that I had to use lots of sterling spacers or the whole thing would have been much too heavy. That's not the concept I wanted, and like my weaving, if my jewelry doesn't make me happy, it doesn't get made.
But by now I'd checked my records and knew I really had to focus on bracelets the most. I had an idea in my mind of something that would combine my fiber interests with my jewelry. I've had plenty of experience and know that what works in my head and what works in real life can be completely different. So I was pleased that this one worked rather like I had planned.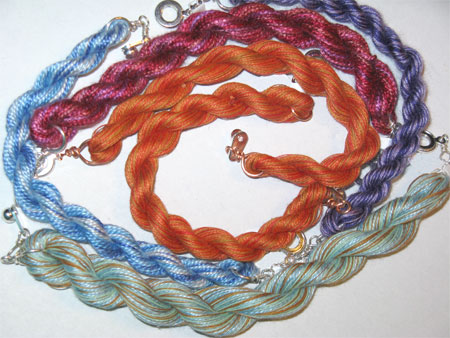 Each bracelet is made with 2 or 3 different colors of yarn. The orange is a 3 colors of very fine cotton, the blue-green-brown a medium cotton. The blue & white and red & purple are actually both variegated rayon yarns. The purple is a very fine blend of cashmere & silk in light and dark. I like them all, but must admit the oranges are my favorite, partly because of color, partly because of their thinness. It took a while to work out how to make these, and I think I'll make a few more before the show.
Your turn – how often are you able to combine your varied life interests?