Some people call them infinity scarves, some people call them cowls. Either way, these scarves-with-no-end are incredibly easy to wear. It won't slide off. It won't drip into your soup. You won't forget it somewhere when you're out.
Each of the cowls on this page was woven from threads that were hand painted before they went on the loom. The single seam was sewn down by hand for a smooth finished look and feel.
The Coral Diamonds Cowl (below) is made from cotton and Tencel. It is approximately 9″ wide and 46″ around, so you can choose to wear it in a single loop or double it more tightly around your neck. The golden threads interspersed add a touch of bling around your neck.
Contact me to purchase Coral Diamonds: $56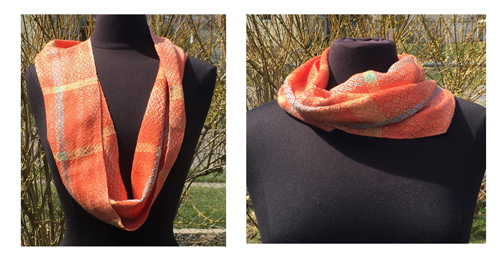 ********************************
Golden Tones Cowl (below) combines marvelous drape and great sheen. The solid gold Tencel weft brings out the beauty in the warp colors of yellow, lavender, and a bit of turquoise. The feathers weave structure adds more interest.
This cowl is approximately 10″ long and 36″ around. Contact me to purchase Golden Tones: $48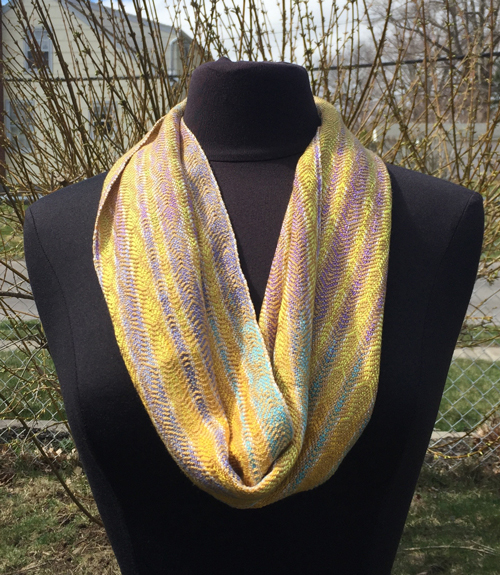 ********************************
Spring Blooms is remarkable in its own right. It is woven from two separately dyed warps: one in purple and blue, the other in yellow and gold. These two warps were woven together for colors that change in interesting ways.
Spring Blooms is a combination of Tencel, cotton, and bamboo. It is approximately 8″ long and 32″ around, so it is worn relatively closely to the neck. Because of the two warps woven together, this cowl is a bit thicker than the others on this page.
Contact me to purchase Spring Blooms: $68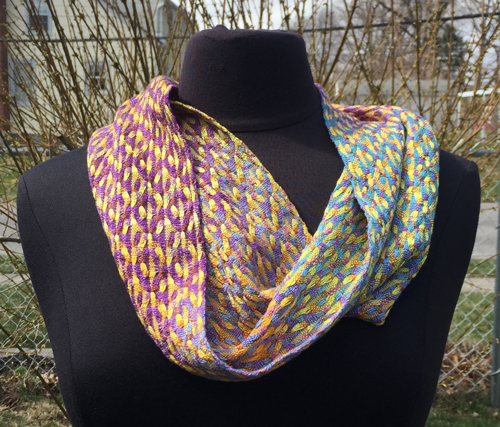 ********************************
The Southwest Cowl is a little different from the others on this page due to its size. This piece is approximately 19″ wide and 34″ around. That makes it twice as wide as the others, so it can be spread out over the shoulders a bit. Or, if you prefer, you can bring it up over your head for a loose hood.
Made with 100% Tencel, Southwest has great drape and sheen. Contact me to purchase Southwest: $80