Yes, it's now a bit over a week after Christmas, but I can't yet share the photos of the gifts I made. I'll be visiting a friend who will receive one this coming weekend, and can post all the photos after that.
Meanwhile, I was totally inspired by last month's Evening Meeting of the Weavers' Guild of Rochester. I got myself some yarn and started knitting mittens to donate to people who need them. Thanks to Suanne Pascarella, my Evening Meeting co-chair, for suggesting this topic (making to donate) and for subsequently providing a vintage 2-needle mitten pattern.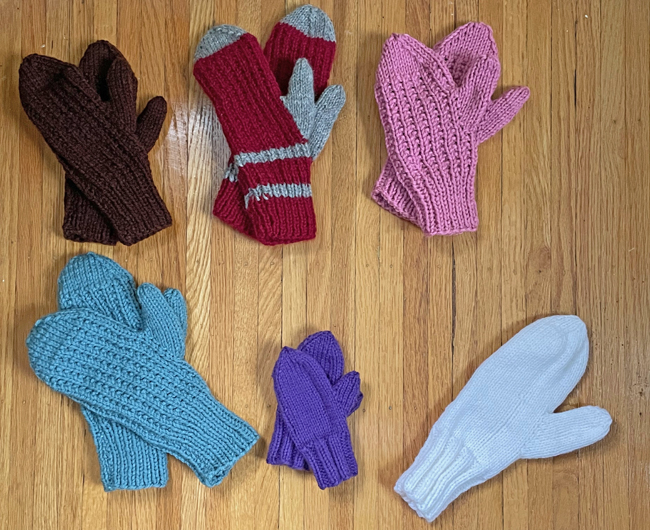 The photo shows them in the order I knit them. The brown, maroon & gray stripe, dusty rose and light blue pairs were made from that 2-needle pattern.  The little purple ones and the (solo at the point the photo was taken) white were made with 4 needles from a free pattern available online.  I've since finished the mate to that white mitten and am knitting another child-sized pair on 2-needles.
Although I intended to hang the mittens in a bus shelter, I've changed my plan slightly.  As soon as I finish this post I'm going to call a local church that has a community garden in the summer and a food pantry year round.  While I could just hang my donations from their railing and/or bushes, I'm going to see if they would prefer that I bring them in for them to distribute.  Either option works for me.
I planned to knit a few hats to accompany the mittens before I brought in the donation, but it is C*O*L*D today, so if the church would prefer to get the mittens now while I keep knitting, that's okay with me, too.
Parting shots:  yesterday morning was just a stunner.  We'd had rain overnight and then the temperature dropped and it changed to snow, so the white stuff clung to every branch.  Just beautiful.