After I made hats and hats and more hats for people for Christmas, in my unceasing egocentricity I said to myself, "Hey, I didn't get a new hat!" So I decided to knit myself one.
I didn't really want a hat, I wanted a cowl/hood — something that would keep my chest warm both outdoors and in my cold office in the morning, and that I could pull up over my head when the wind was blowing or the thermometer was well below freezing. I went to the Alfred Knitting Studio to return the extra baby lama yarn from Amanda's hat and bought some wool-angora blend yarn that was on sale. Yum – that would be cozy!
Then I went on an online quest for the perfect pattern. It hadn't been hard to find free patterns for the seven hats I made for others, so I thought I would have similar success for mine.
Hah! Let's start with the fact that I didn't know what to call my desired accessory. Searching for a cowl/hood/warm head/neck thing doesn't cut it in google. I spent time at my favorite sites, and many more, and saw lots of interesting patterns. The ones I liked visually were only cowls, sometimes called smoke rings, and weren't large enough to pull up over the head. The ones that pulled up over the head weren't my cup of tea aesthetically.
So I'd have to modify a pattern. I don't knit enough to have a good handle on that. But hey, what the heck, it's only yarn. And time. I deserved it, didn't I?
I printed off some patterns with feather and fan type stitches and did something I almost never do…I actually knitted up a few swatches to see if that was what I wanted. I figured out how to read a knitting graph (vs. a pattern), and was pretty proud of that, but realized that although the pattern was attractive, it was designed for looks, not warmth. Scratch that one.
How about a cable? I liked doing cables I tried a few modified cables with some interesting stitches in between them, and ultimately nixed them, too.
Then I stumbled on a terrific video of a woman demonstrating the honeycomb brioche stitch. That seemed easy enough, and I loved the way it looked. I tried it out, and I was hooked.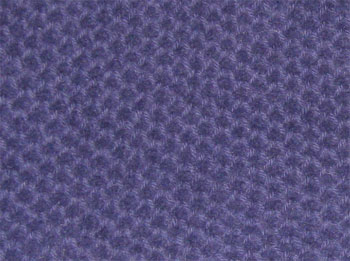 I started out with several rows of ribbing near the face, then went into the honeycomb brioche. It wasn't difficult translating the flat demo to knitting in the round. All was going well till I realized I need to do some increasing in order to make the cowl drape nicely around my neck. How to increase in this pattern? I went back online to see if I could find directions to do that.
Hmmm. I could find a pattern that told me how to decrease (for a hat), but not one that told me how to increase. And the hat pattern made it so complex to do the stitch that the video had made so easy that I couldn't make any sense of it that might help me increase. So I simply gave it my best shot. After all, this was for me, not a gift or anything I'd sell, and I sure didn't care if it wasn't perfect. The increases went fine enough for me, and I finished the piece with a few rows of garter stitch.
I do like the way it pools around my neck.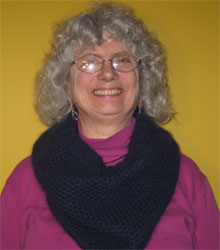 I'm less thrilled with how it works when I pull it up. It's simultaneously too loose around my face and too big on the sides of my head.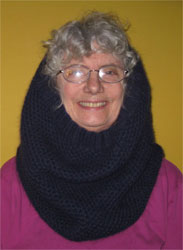 If I'd started knitting at the bottom, I'd unravel the last several inches and do some decreases. But I started at the top.
So I thought about it, and decided that I'd wear it this winter and see what I thought. I'd consider making or buying just the right stick/pin to tighten it around my neck if I needed to. Then, if it wasn't meeting my needs, I could always unravel it and re-knit next winter.
Here's how big the whole thing is laying flat, with a ruler for scale.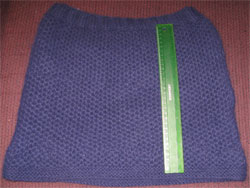 After the cowl-hood-head/neckwear, I decided it was time to finish the socks I'd started last winter. I had a sock and a half knitted – it wouldn't take long to finish.
I did finish, and ended up giving them to Margaret. They were a tad short for me, and I knew that as a result I'd wear out either toes or heels too quickly. They weren't so short I couldn't put them on for a photo shoot.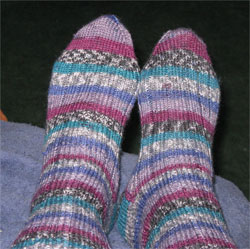 I started knitting another pair for me. Maybe I'll get them finished next winter. 🙂
Your turn: what should I call that thing that keeps my neck & head warm?