I really have wonderful children. I don't know how I got so lucky, to have kids who are kind, generous, caring adults.
For a combination Mother's Day & birthday present we took a family mini vacation, just the three of us. Michael met Amanda & I at the airport early in the day on Saturday, and it we had to kill a few hours before we could check into our rental cottage, so Amanda had scoped out some wineries on our way from Charlotte to Asheville. This was the first one – we liked their logo, as well as their wine.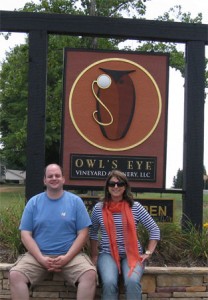 Before we go any farther, I have to tell you that I CLEARLY wasn't thinking about taking good pix for the blog. Apparently I wasn't thinking about taking good pix at all. We spent most of a day at the Dupont State Forest, with beautiful trails, waterfalls, and scenery, and what did I take pictures of? The entry sign and two wildflowers I wanted to identify.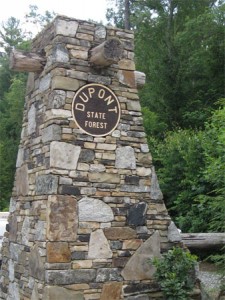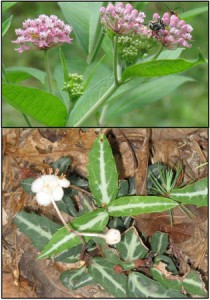 Oh, yeah, and this really cool sign. It's the kind that always makes you feel warm and fuzzy when you're hiking.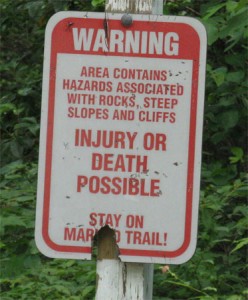 Our first evening in NC we went to a street fair in a park and saw this amazing group of children clogging. Unfortunately, my one shot with the tiniest couple (they were both 4 or 5) is too fuzzy to share. It figures.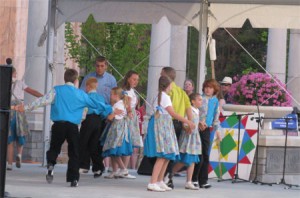 We spent most of another day at the Biltmore Estate. George Vanderbilt built quite a monument to himself. You can get good shots of the whole 34-bedroom, 45-bathroom mansion at their website. I just want to share few things that amused me. There were many gargoyles and grotesques on the place, apparently not there to function, since he had solid copper gutters installed. But our guide told us the gargoyles & grotesques were all carved IN PLACE. Up on the edges of this really steep slate roof!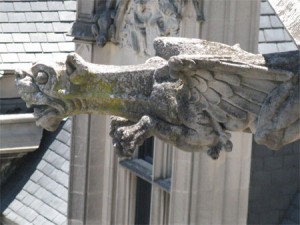 Much of the roof was decorated with these embossed copper decorations. In their day, George's initials and the acorns were decorated with gold leaf, most of which as washed off in the many decades of weather.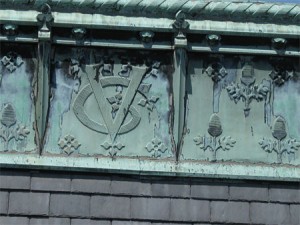 The Blue Ridge Mountains were really gorgeous. And always hiding behind a light mist that led to their name.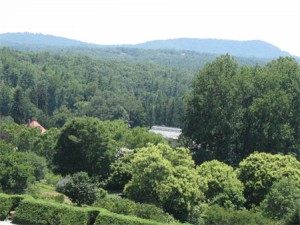 The weather was perfect — although it was hot during the day, it was almost always breezy, and it cooled off at night so that the next day started out at a reasonable temperature.
We finished our mini-vaca with a trip to 12 Bones, a great barbecue place that Obama stopped at just a few weeks after my son discovered it. Do you think the President knew Michael had been there?
I had a wonderful time spending 4 days with my terrific children. I hope we do this again!
Your turn – did you take a vacation or staycation this summer? Spend time with the family?