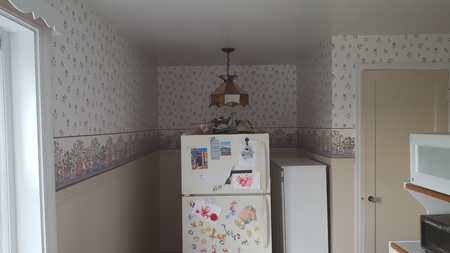 When I moved into this sweet little house 3 years ago, I knew that I didn't like the wallpaper and paint in the kitchen. Although there's a dark alcove, most of the room is nice and bright with a large bow window, so I could ignore it for a while, but not forever.
For several months I thought I'd strip the wallpaper myself and paint. Finally I realized I'd much rather pay someone to do that. I used the NextDoor app and got some recommendations, ultimately choosing a GREAT small, local firm, Stamp Paints. Josh and Kay were a pleasure to work with, very responsive, professional, and reliable. In addition, they are dedicated to giving back to the community and make donations of both money and time regularly.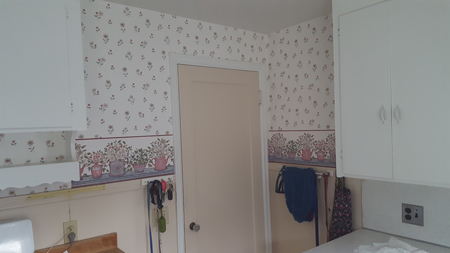 Well. I cannot stress enough just how happy I am that I hired Josh to do the job. Under that first layer of wallpaper, which came off relatively easily, was paint over another layer of wallpaper. And paint over a third layer of wallpaper under that! Hours and hours spent by a professional would have translated to days and days and curses and frustration and anger and hatred if I'd been doing it myself.
After the wallpaper was removed and minor repairs made, Josh painted the walls. The chair rail and below are a lovely blue (Sherwin Williams Ebbtide); above is a nice green (Sherwin Williams Breaktime).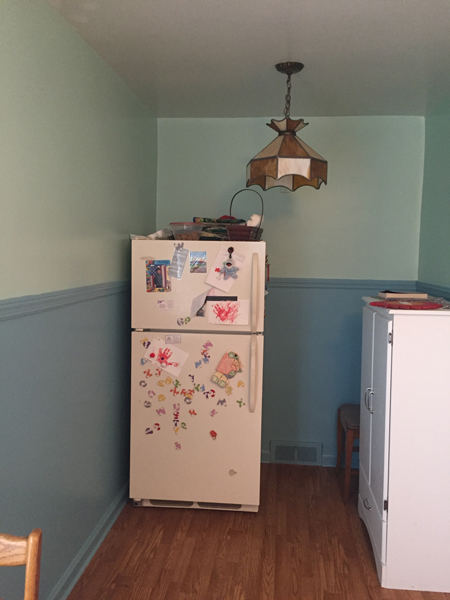 I left the cabinets and other trim white for now, and painting the doors was not part of his bid, so I still have to paint the kitchen side of the two doors. I've just been too busy weaving to get to it. There will be time this winter; that's my story and I'm sticking to it.
I also want to replace that light fixture by the refrigerator with something that 'fits' the rest of the room, but that would require going to a store and shopping. Ugh.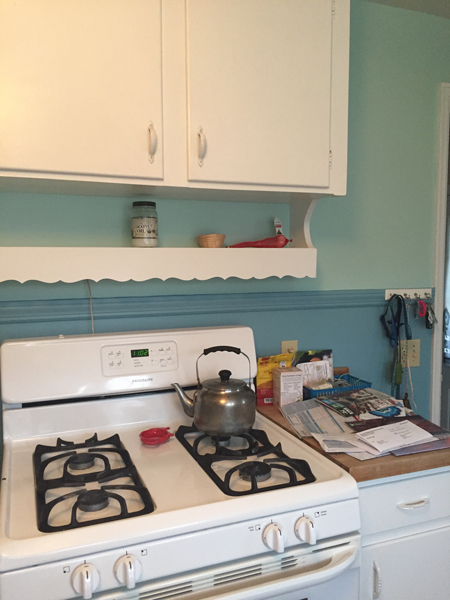 I really like the new look – except for my mess on the counter. After I paint the doors I plan to paint my bathroom, too. We'll see when that happens, as I've committed to some painting at my daughter's flip house and my son's new home.