With my goal of 6-7 finished scarves or shawls per month, I've just met that for October. It's possible that I'll get 3 more done, but they may end up not getting finished until November.
In my last post I showed you 3 warps I'd hand painted. The first to go on the loom was the 5/2 bamboo. I chose a simple block twill weave; I just like this weave structure.
For the first scarf I used an 8/2 cotton weft that I'd immersion dyed a year ago that was waiting for the right opportunity to play. This was it. I like the way the sheen of the bamboo and the matte finish of the cotton play off each other. I also switched the size of the treadling blocks randomly. I wasn't sure if I'd like it, but I do.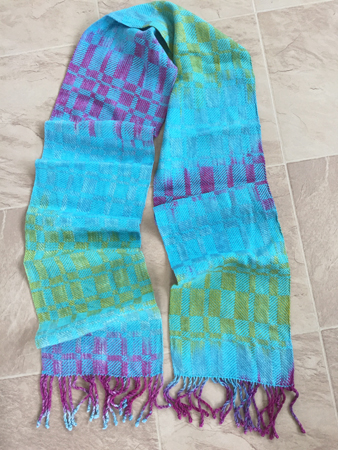 I used a commercial 5/2 bamboo for the second scarf, and because I wasn't sure if I'd like the random treadling, I used a consistent pattern for this one.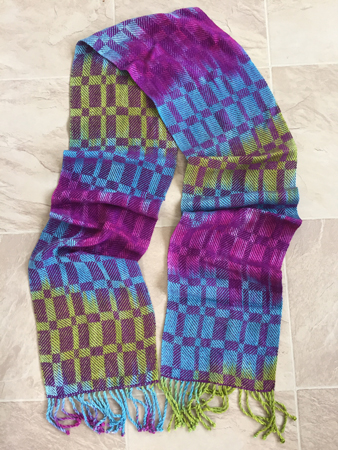 I had only enough warp left for a short cowl. I opted for a navy tencel, wanting it to make the warp colors pop. I also chose short treadling changes for this short piece. I was surprised that this is my least favorite of these 3 on this warp.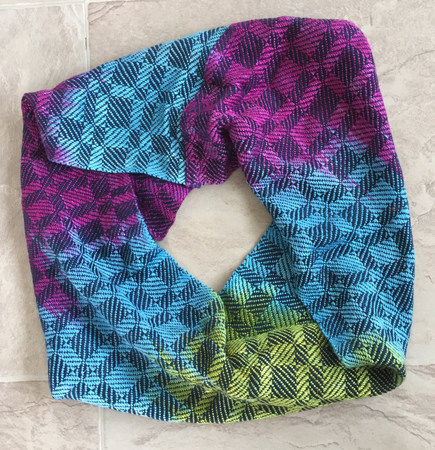 I also got those bumberet towels you saw me beaming in the last post woven and finished. I learned something with this warp…I prefer it when I have more of a main color predominating in the warp than I did in this one. They're fine, just not my favs. From the top down, in the weft color order in which I wove them, you see blue, medium blue, pale green, periwinkle, peacock, mauve, aquamarine, and lilac.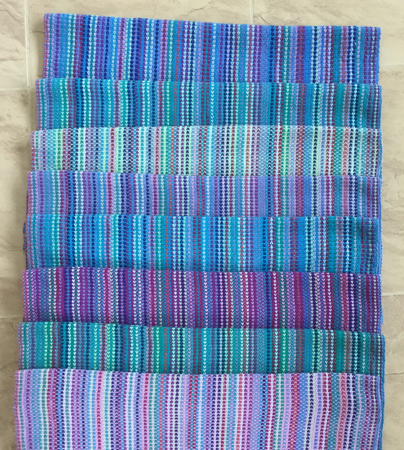 All of these towels, and a few others I have in stock, will go to the Weavers' Guild Holiday Sale in a few weeks. History tells us that people like to have small purchase options, so I'm hoping the towels will do well there. Although I like making towels, they're not big sellers at my show, so towels do not count toward my monthly goal.
In keeping with the small-items scenario, I decided to make polymer buttons for the Holiday Sale, too. I tried some new things, and there were lots of buttons that didn't make the grade after baking.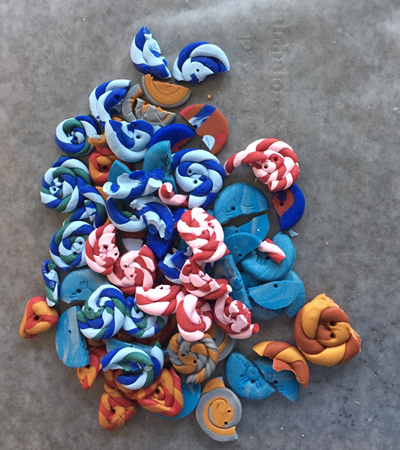 I am happy with all those that did. I made a little leaf-vein etching on this set of 3…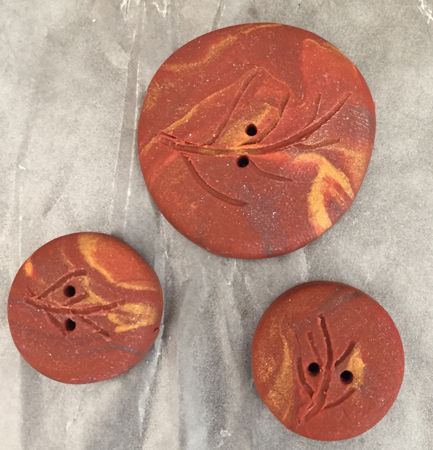 …and did what I think is neat striping on some.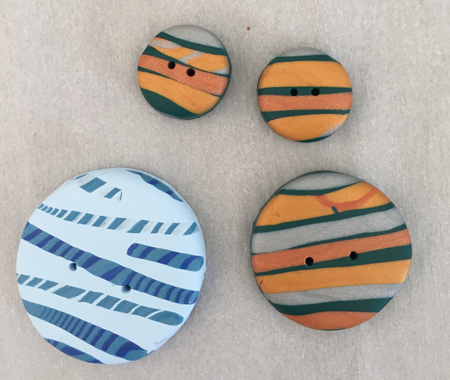 I decided to paint a glaze on the buttons for a finished look that I prefer, and turned them into button lollipops for 2 coats of glaze front and back.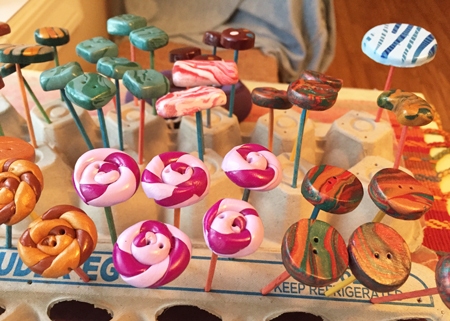 Once they were all done I had to develop packaging that would show them well. I printed on cardstock, sewed the buttons to it (a task that took much longer than I'd anticipated), inserted it into a cellophane bag, stuck my business card in the back, and closed the bag with decorated tape. We'll see if they sell.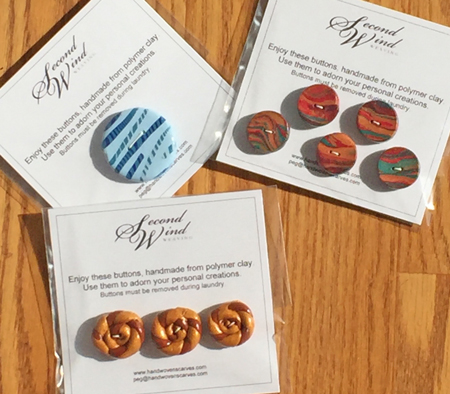 After this show I will put any towels and buttons left up in my Etsy store, and try to get some more photographic views of woven scarves and shawls to post, too.