Live and learn. And then learn some more. Repeat.
Some of what I learned on this go-round is new to me, some not so much, although a different context.
Back in April I hand painted some warps, one of which was based on a painting of a wood duck. (See it here.) I was looking forward to that warp, and wove it in May.
On the loom, I was happy. For a while.
Because I was inspired by the wood duck, I wanted to use a weave pattern that was reminiscent of feathers. And I knew I wanted to use a dark weft to create more of the look of the painting. Apparently I forgot to take a photo of the first scarf, using black weft, while it was on the loom. Suffice it to say that after about a foot I knew it was going to be too dark. I should have simply stopped then, started with a new color weft, and not looked back, but I didn't. I wove the whole thing with the black weft. Ugh.
So for the next weft I chose a brownish red. I liked how it was looking on the loom, enjoying both the colors and the weave structure.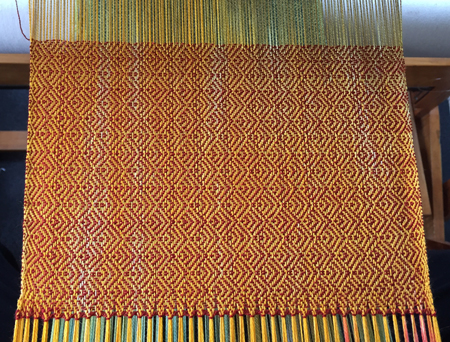 I tried a few different wefts for scarf number 3, settling on a sage-y green. You can see here that the painted warp was a bit blotchy. Too many color changes that were too different – not smooth transitions.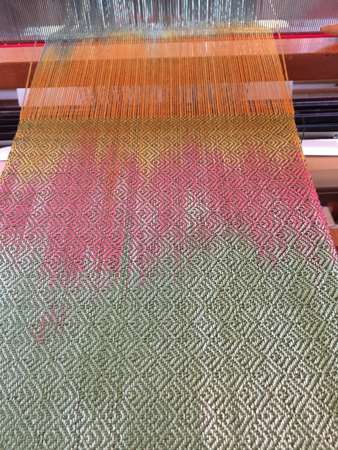 That was my new learning with this warp. Think more about how and when the colors shift. I am not proud of this run of scarves, and don't expect them to sell well.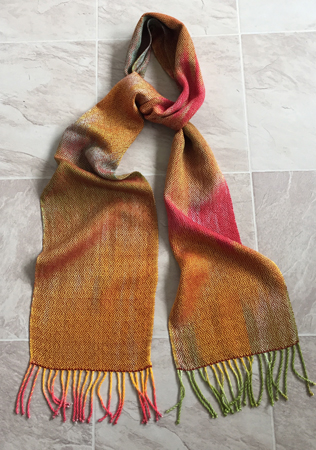 Nothing I can do about it now.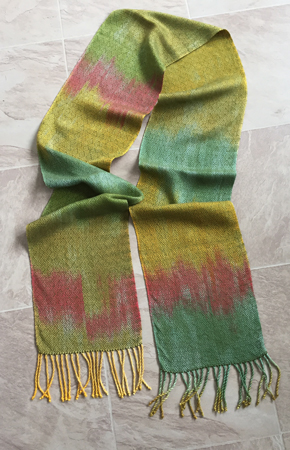 So in my desire to weave more scarves for my upcoming shows, I decided to adapt a pattern I'd looked at several times before, from a Handwoven book, Best of Handwoven Scarves on Eight Shafts.
As my readers know, I usually warp my loom for 3 scarves, but this time I didn't. I warped for only 1, because I only had enough of the yarn for the stripes for 1 scarf. Boy am I glad that's what I did.
I wasn't crazy about the pattern on the loom, but was hoping I'd like it better after wet finishing. Hah!
I was using some professionally hand painted yarns designed for cross stitch, which the web tells me is also used by quilters. Well, as soon as they hit the water those colors ran like mad. I might have been able to predict that, but these were, like I said, professionally dyed yarns – Watercolours by Caron – and I expected professional results. Nothing on the tag about running.
Look at the aura of dye around these yarns after the scarf had dried.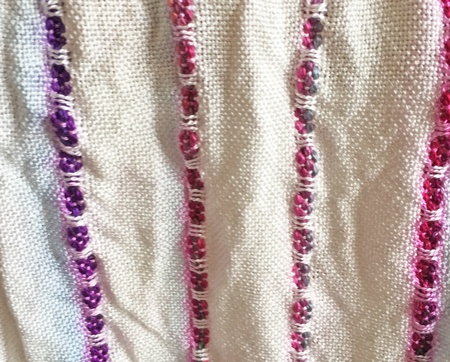 And if that weren't bad enough, the two sides of the scarf apparently touched each other while they were drying, and one side got a big blotch of pink dye on the white area.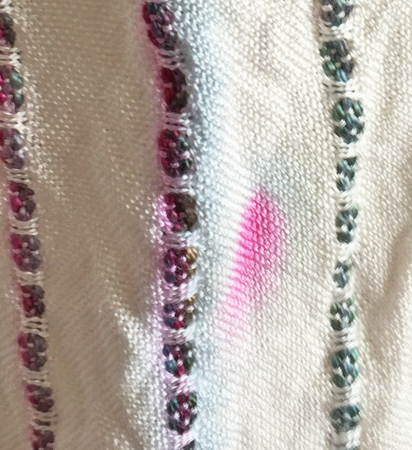 I'm holding off on ironing, as the heat will set those colors as is. I'm going to try another hand wash, this time using those magic Color Catcher sheets. I don't know that they'll help, but they sure won't hurt. But this scarf may just be for the scrap bin.