That's what my weaving life has been like today.
Weave.  Unweave.  Repeat.
Last evening I wove about 4″ of the watery silk warp with the green weft. Then I remembered that I already have an undulating twill silk scarf with this green weft. Plus the beginning selvedges were nasty. Plus 3 of my trusted commenters liked another weft. So unweave all that.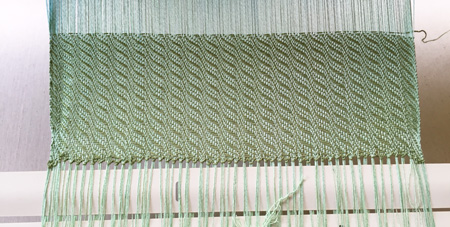 I started again with the silvery blue weft. Much nicer. Got 4-5″ woven and thought, since it was to have some vague representation of water, I'd try randomly varying the treadling, giving the whole thing some movement like water in a creek. Wove another 3+" and decided I hated that, so unweave.
Then I had to take a lay-down break. Some time yesterday I somehow pinched a nerve in my upper back. I'd taken some ibuprophen a few times, and it just needed to rest and be iced. So I did that.
Still, I got a little over half of the first scarf woven today. I am LOVING it!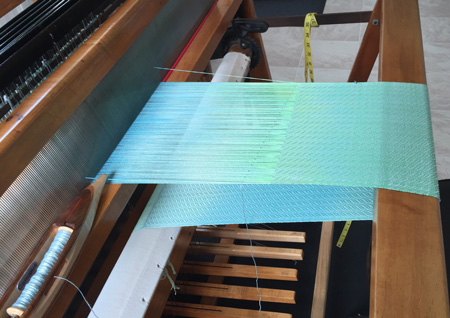 Joelle asked for the weaving draft, so here it is for all.