I don't think of myself as a brave person. I certainly don't apply the term risk-taker to myself. Yet I am a person who is willing, sometimes eager, to try new things, especially when guided by a knowledgeable, supportive teacher. That's the case with my recent decision to try dyeing yarn at home.
When I took the first, and even the second, dyeing class at the Weaving & Fiber Arts Center, I told the teacher that I definitely would not be doing this at home. I was so sure that I didn't keep her wonderful handouts from the first class, or even take a copy home with me from the second.
Hah! When I couldn't fit her next 2 classes into my schedule, I ordered the necessary supplies, asked her for a copy of the handouts, and set out on my merry way, albeit with a bit of anxiety about screwing up.
The first step in dyeing a warp is to measure out the yarn you'll be using, in the number of threads needed. Here I'm going directly from a skein of silk to my warping mill.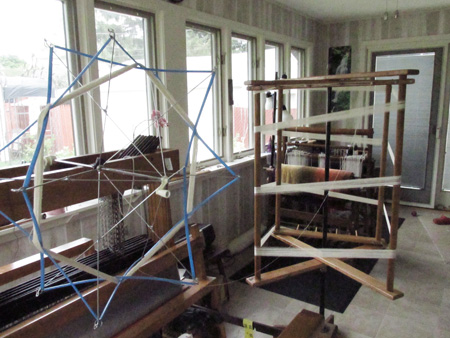 When I took the classes I simply guesstimated how many threads I'd need for some weave pattern that I'd later determine. This time I decided to figure out what pattern I wanted to weave first, then dye in colors that made sense for that pattern. Time will tell if that serves me well.
First I wanted to weave an undulating twill that looked very watery, so I painted my silk warp in blues and greens.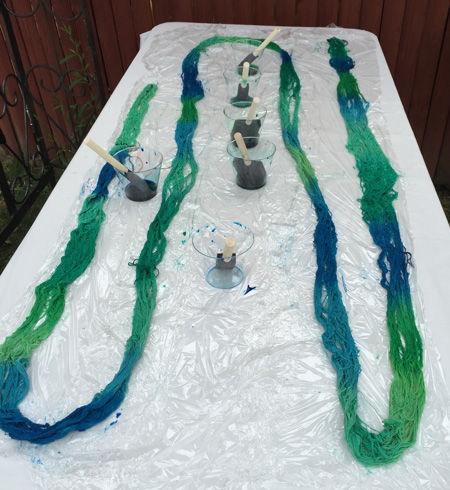 Then I wanted to weave a modified snowflake pattern, and thought lavenders and blues would work well for that. Interestingly, when I mixed up the lavenders the color that I got on a white paper towel was most definitely not what I saw when I painted it on the yarn. Both the light and dark lavender started out as grey, and I was disheartened. After a bit of exposure (to air? to the soda ash activator? to the silk yarn?) the colors turned the purples that I was looking for.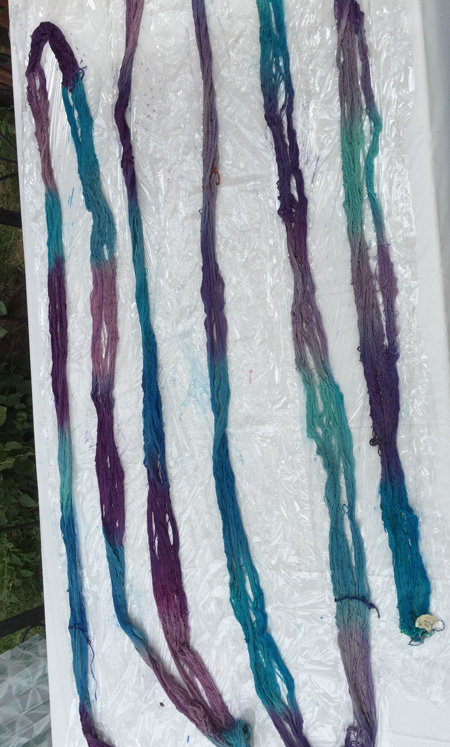 For the third warp I decided to try overdyeing some very yellow rayon I had.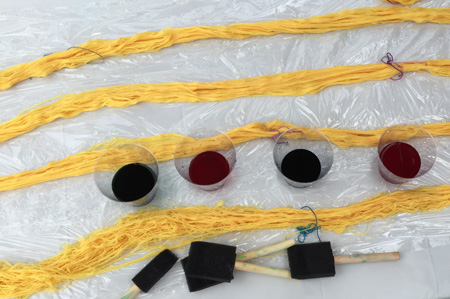 Since I was starting with such a dark yellow, I had to take that into consideration in the dye colors I chose. No pastels here, I figured. What I ended up with looks like a Mexican fiesta to me.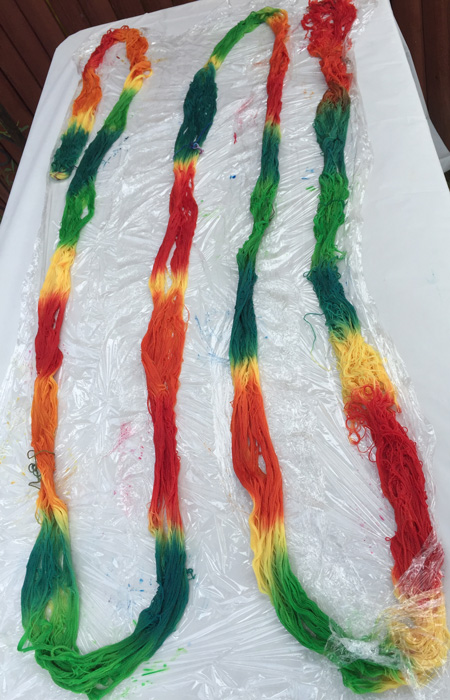 Anyway, when you do hand painting — and perhaps other types of chemical dyeing, too — it's a long process. I worked non-stop on Saturday for 4.5 hours from getting out the supplies to cleaning up. And this was, of course, after I had done the planning and wound the warps.
Humorously, I wound warps the same length as those 3 warps of rayon chenille I wound for those six recent shawls. I didn't stop to think that each warp was long enough for only 2 shawls, not the 3 that I usually do a warp, so each of my new warps is only long enough for 2 scarves. Maybe that's all for the best. Had I wound each long enough for 3 pieces, it would have taken me much longer both to wind the warps and to paint them. My back had had enough on painting day, so I'm glad they weren't each 1/3 longer. (Note to self: if I want to do longer warps in the future, I need to either raise the work table somehow or do fewer warps in a day.)
So after the painting was done I had to wrap up each warp individually and steam it to set the dyes. Then I had to let those steamed warps sit overnight to 'batch.' That brings us to mid-day on Sunday. That's when I unwrapped and did a preliminary rinse on each warp, followed by an overnight soak to get all the dye possible into the yarn and minimize the rinsing time, energy, and water needed.
Finally on Monday morning I could rinse out the yarn and see if I had followed the steps correctly so my warps would hold the color. Whew! I had! I set them outside on my drying rack to enjoy the breeze and dry, without dripping color on my floor or my bathtub. Here they are mostly dry.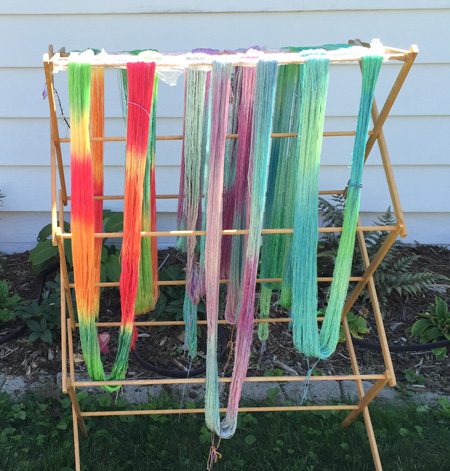 That Mexican fiesta yarn is something else, isn't it? If it were cotton I'd make towels out of it. Since it's rayon I'm not sure what I'll do. It needs to grow on my a bit, I think.
I am a little disappointed, or maybe just surprised, at the colors in the middle warp, the one I planned for the snowflake weave pattern. The purples turned a most definite red-violet, much more red than I had in mind, or than what I saw when it was wet. I'll probably still do the snowflakes with it…or maybe not. 😉
I love the blues & greens for the watery weave, and hope that I can make my vision come to life with the correct wefts. I wonder if I should custom dye them……