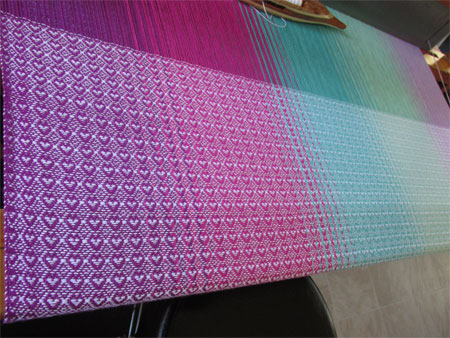 I am loving this warp. Is it because there are only 5 color so that I get wider areas of each color? Is it because of these specific colors? Is it for some other reason I can't identify?
I don't know, and frankly, I don't care. I just find this warp, and RH's white weft, remarkably appealing.
Here's a look at part of the other side of the wrap as it rolls around the cloth beam. I truly can't decide which side I like better. RH-do you have a preference which side I put the hem and label on?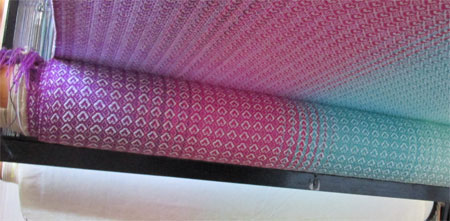 I just finished weaving all of her 210″ of fabric. Either later today or tomorrow I'll start on RBG's. I'm really looking forward to that one because RBG chose to have yarn hand painted in 6 different colors. This is more colors than have been used with the prior hand painted yarns I've used, so I'm eager to see how they will — or won't — pool across the width of the warp.
But now I'm going outside with Jack to soak in the marvelously warm and sunny afternoon. 🙂