EJ's warp is on the loom. I love the way it looks in real life, and hope that the image does it justice.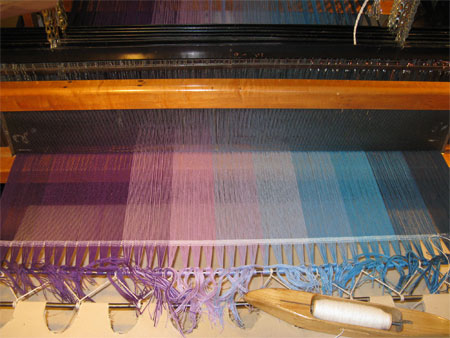 It will be interesting to watch this warp take shape. EJ is the first mom to request tabby for her weave, and the first to request 1 light color & 1 medium color for her wefts. I'll keep you posted.
Meanwhile, mama EC sent me photos of her & baby happy with their brand new custom wrap, and gave me permission to post them.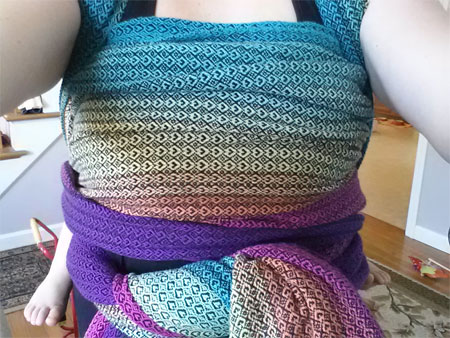 In this one, I like the addition of the hand print painting behind them. 🙂
I'd love to report that all's happy in baby-wrap-land. Unfortunately, no. The other wrap I wove on this warp, for A in her hearts & flowers pattern, has issues. Ok, 1 big issue – long floats all along one selvedge.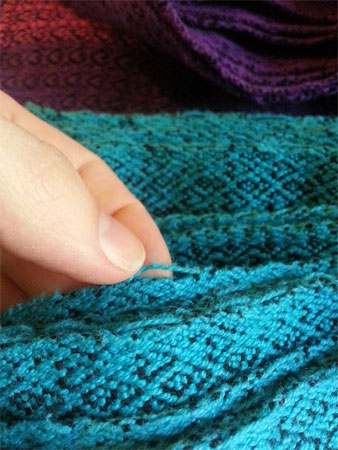 I didn't realize it as I was weaving, and mom is understandably quite concerned that the selvedge won't hold up to the heavy duty usage of a baby wrap. So far we've agreed upon a full refund and re-weave. I believe the problem would be avoided by using a floating selvedge on both sides. I only had one on the left, as that's the only place I needed it for my 'regular' heart pattern, and if I can avoid the floater, I do – it just takes a bit more time to weave with one.
Now we're working on the best solution to the problem wrap. A thinks the best use may be as ring slings, since they're generally hemmed on all four sides. So we're offering it to a select few as that. If I don't have takers, I'm considering two other alternatives…a very narrow and close zigzag along the selvedge, or the application of a handwoven band, sewn on in the same manner as blanket binding, covering both sides of the selvedge. In either case, I'll have at least one of my gracious testing mamas test it out before it gets sold.
Life, and weaving, moves forward.