Elmo didn't make it. That is, the hat was definitely not accepted by my grandson. He was clearly not going to wear it; it was a struggle just to put it on his head so I could see how it fit. The little guy loves red, so that wasn't an issue; his mom assumed it was the eyelash yarn I'd used to make the hat fuzzy.
So I needed to remake the hat. Without any eyelash yarn. Also, it was too short, that is not deep enough to cover his little ears. I started knitting it with the solid red yarn I'd made the original hat from, but was not happy with it. Cheap yarn made it too stiff and hard; it wouldn't feel good.
Joann's was having a sale — all yarn was 25% off, so I picked out a different red, a nice soft wool-acrylic blend, and knitted a new hat. I'm quite sure this one will fit him.
Then I phoned my daughter to see if she thought the Elmo features were desired or if they should be left off. She voted for put them on. This took two attempts, since the first time I'd sewn them on too far from the brim. Now I'm happy with the hat.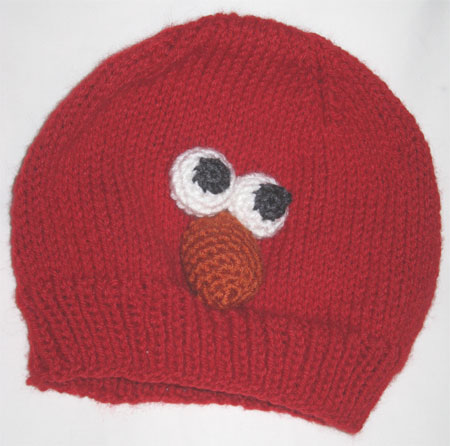 Hats knit up quickly. When I was at Joann's and looking for a nice, soft red, the fact that all the yarn was on sale made me pick up a blue, too. It's only acrylic, but I liked the colors. It's larger – the brim will likely need to be folded up on this one, which I'm also sending along.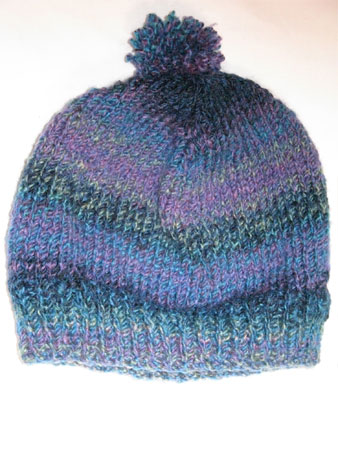 Maybe he'll like one of the hats. Maybe not. This little guy knows what he likes and what he doesn't. I'm told one of his current favorite hats is the duck hat I knit him two Christmases ago — it was way too big at the time.
I'll just wait for the report once the package hits Rochester.