I love learning new things and using new-to-me techniques. It was well over two years ago that I read the Dust Bunnies blog when Ngaire used a clasped weft technique to create a to-die-for scarf. Never heard of the technique, couldn't imagine how it worked, so let it go.
More than a year later I tried some clasped weft with the little pickup pieces I did on my rigid heddle. Never having seen it done I no doubt did it the hardest way possible.
Then when I took Su Butler's pickup class this spring she showed us how to do clasped weft pretty easily with one shuttle and a cone of yarn on the floor.
All this is leading to my latest weaving.
I wanted to do some more color blending, this time with rayon chenille. I wound the warp and got it on the loom (sigh). For the first scarf I used a solid red weft – the same as one end of the warp.
(Note: for these scarves I have purposely not shown you the scarves in all their drapey yumminess. I want you to see the color, not the softness or sheen.)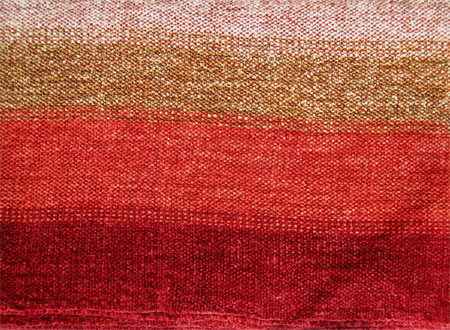 I wasn't crazy about the look of the dark red yarn on the gold or cream warp. This wasn't what I had in mind.
How would I solve the problem? A solid cream weft might look nice, but it'd totally wash out the darker colors.
I decided this was the perfect opportunity to use clasped weft! Red yarn in the shuttle, cream yarn on the floor. I'm really happy with the results.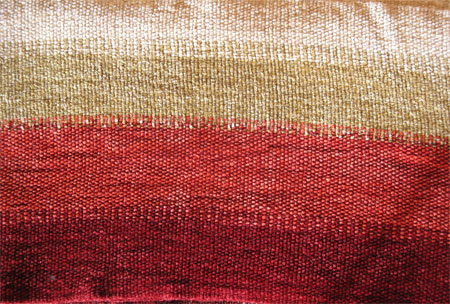 I thought I'd use a solid orange weft for the third scarf on this warp. I wound a bobbin and set off weaving. After about an inch I decided to go another way and unwove that inch. Instead, I wove just over 3″ with each of the 4 colors of yarn I'd used in the warp. I'm happy with this one, too.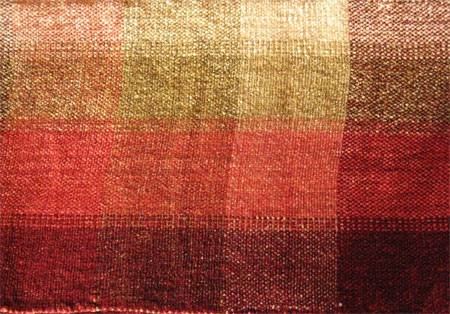 The last one happens to be the favorite of my friend Margaret. The clasped weft is mine, but I can't be sure if it's because of the look or because I'm proud of my use of the new-to-me technique.
Next I want to try using clasped weft in something a bit more free flowing than this.