After the Magic Kingdom bamboo-cotton scarf I picked up another hand painted warp of the same fiber, this time in a colorway Tammy calls Gems. There are some similarities in these two colorways – I didn't realize how close they were when I placed the order, apparently. Or more likely I ordered them at different times and forgot what I had, simply ordering what I like.
Anyway, here are the handwoven Gems bamboo-cotton scarves.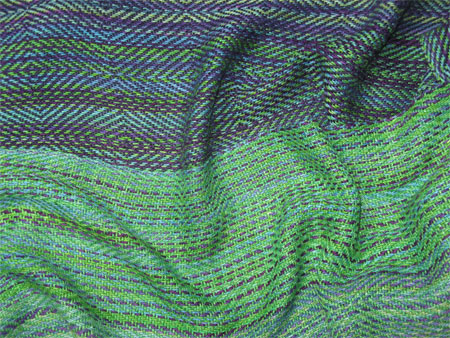 First I wove a scarf with a solid Emerald weft. Lots 'o green, I thought. Try something else. So I used a navy bamboo weft. Interesting, but too dark, so back to the Emerald for scarf number 3. Although most green tones do not look good on my skin, they sure do work for lots of other people, so I'm sure they'll be liked.
Back to the warping board….