It took a week with no clues, and then within 24 hours two women contacted me to identify my little new-old loom. Thanks here to weaver Paula who sent me an email, and second to weaver Wendy who commented on my original post, for letting me know that I am now the proud owner of a Missouri Loom.
Once I had that name, I went online to see what I could find, and if I could confirm the ID. I found a smattering of photos, the majority on Ravelry. While my loom had a few minor details to the Ravelry loom, most things were identical – like the slit in the castle, the 3 pegs for the beater, the shape of the side piece & the fact that it was made from plywood. All three are pretty distinctive.
Look at a more complete label…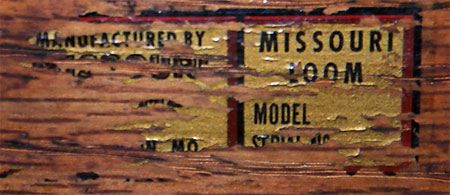 And my label…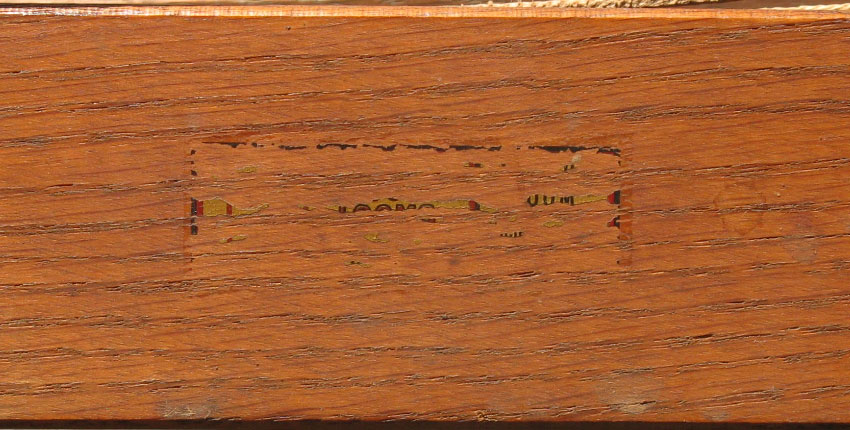 While they may not look that similar in the photos, you'll have to trust me that the little bits of label left on my loom are the same as the Missouri loom label. That was one of my locks on confirmation.
More googling led me to other photos that showed my levers exactly, providing final confirmation.
Then, lo and behold, I found Janet at The Weaver's Friend. They have a copy of the original manual for this loom! Needless to say, my check went in the mail on that very day.
I can't wait to get it, in all its 13-page glory!
The loom needs lots of work – new cords (I have purchased cord that MAY work), new apron cloth/straps & cords, new reed, plus tons of cleaning & waxing. I still think I got a good price, and that this little baby will be a gem for me.
I'll keep you posted.