Remember way back in January when I showed you a little bit of what I had on my rigid heddle loom? Well, I finally finished weaving the entire warp. I had to cut it off before it was completely done because my cloth beam was full.


I made lots of little pick up designs. Some are small enough to fit into little magnetized photo frames, others are large enough to fit into window cards. I bought the frames & cards to have small items available in my booth at a particular fall show. I thought the weaving would be quick so I could sell the finished products inexpensively. HAH! Pick up designs are not quick, particularly when, like me, you don't want a lot of the same thing so you have to keep coming up with new designs.
Everything I'm showing you now still has to be machine stitched on all 4 sides to make sure it doesn't unravel, pressed, and then put into its finished format. More time.
Next time I try this concept (and there will be a next time) I'm not doing pick up! I'll make lace, or little overshot designs, or something I can do on one of my multi-shaft looms.
I'm not commenting on each of the designs – they'll have to speak for themselves. Some worked much better than others; you're not seeing the complete flops here, so just imagine what they look like!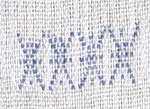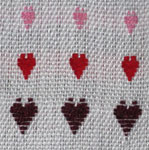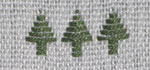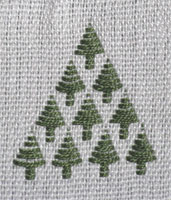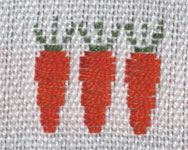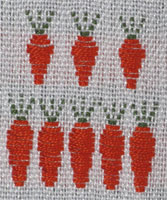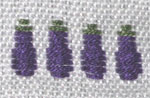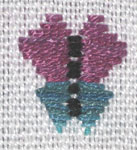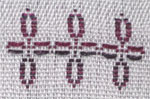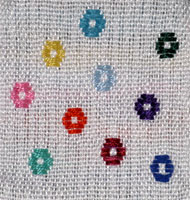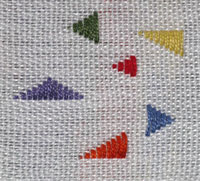 I'm really not happy with these candy canes, and likely won't use them.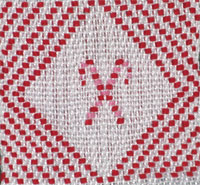 But I did like the outside diamonds, so tried a different interior. Much better.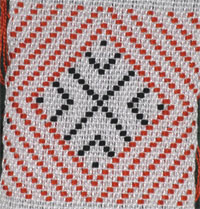 I decided I wanted to try a clasped weft. This small format seemed the perfect time to give it a shot.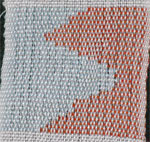 I like it!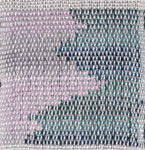 I read the weaving blogs in my blogroll for inspiration. All these weavers stretch my mind and imagination. Others do too, of course, but I find them in places other than the blogosphere. Two years ago Ngaire, over at Dust Bunnies, made this AMAZING full-size piano keyboard scarf in rayon chenille. No way I was going to attempt that, but thought I'd try a small bit. Too much white showing, but other than that, I'm pretty happy with it.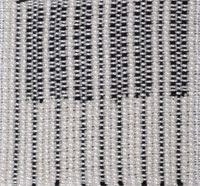 I haven't yet figured out what I have to sell either the magnets or the cards for. Hope it's something reasonably affordable. If not, I'll try another concept.