Back in April I told you I was trying my hand at weaving with some VERY fine silk. Somehow time got away from me in showing you the finished handwoven silk scarf.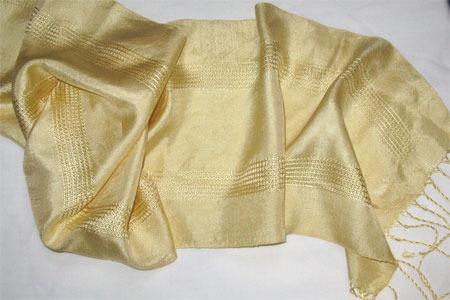 The scarf is wonderfully light and airy. It looks and feels like the picture my mind conjures up when I think the word 'silk.' Despite the fact that I have learned well over the years that there are many types of silk – many weights, many textures, many qualities of silk, this is the default type in my head. I think it's a silk charmeuse. Isn't that a great word? Charmeuse. I think it even sounds rich and luxurious. Comes from the French, meaning charming, which I certainly think this fabric is.
Or at least it would be — no, will be — once I have some more experience under my belt with it, and maybe a little help from a spinning friend to ply it for me. From the beginning, I considered this scarf to be a sample, a test piece, something that I was weaving to get the feel of the yarn and learn some of its ideosyncrasies. And I did learn some. Undoubtedly I'll learn more in my future experimentation with it. And it will be different when it's twisted and plied. Maybe I'll love it, maybe not — only time will tell.
Anyway, this particular scarf won't be sold. I haven't yet decided if I'll keep it for my own or gift it to a friend who's not so fussy about its imperfections. Let me share them with you.
For reasons that are completely beyond me, there's this 'mushy' section near one end. Although there doesn't appear to be a treadling error or threads skipped with the shuttle, this imperfection sure didn't come out in wet finishing and pressing. It looks like I took my thumb, pressed down really hard and forcibly pushed the threads into a rough elliptical shape. I suppose I could try again to wet finish, paying particular attention to this spot, but I don't know that it would help.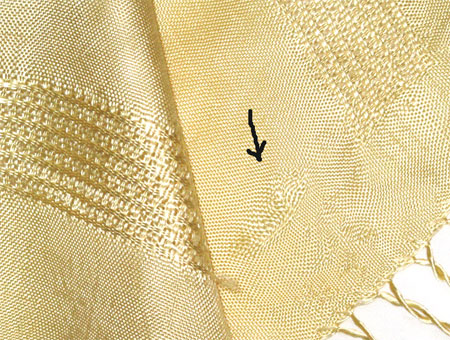 Then there are the selvedges. This scarf has 72 threads per inch in both warp and weft. In order to achieve that, I used 2 threads together all the time. (Otherwise I would have had to have 144 threads per inch in each direction – an amount of work I wasn't willing to contemplate.) Two threads went through each heddle, 2 threads were wound on the bobbin. As a result, there were plenty of times when one of those bobbin threads wasn't pulled as tight as the other at the selvedge.


To the untrained eye, it might look like a very fine halo in places along the edge. Heck, the untrained eye might not even notice it. But I sure do.
Nonetheless, I'm pleased with this first attempt at using the tram silk, and eager to see how it looks after my spinning friend tries his hand at it.