After loving the Carnations handwoven scarves, I decided to use another new-to-me colorway – Chestnut Rose.
The bamboo-cotton variegation was very earthy, and while that tends not to be my favorite to wear, I know lots of people like those colors. I measured the warp for four scarves, dressed the loom, threaded for big twill diamonds, and set to weaving.
I wove the first two scarves with a bronze weft Tammy had dyed to match for me.

I found it interesting how differently the two scarves look simply by changing the treadling pattern. The diamond twill (on top) seems cleaner, with more sheen, while the color definition is better on the more complicated twill scarf below it. No matter; they're both nice.
As per my usual, I wanted to mix it up for the other two scarves in this warp. So I used a curry rayon for the third scarf, and a lipstick cotton for the fourth. Here's all four of them together.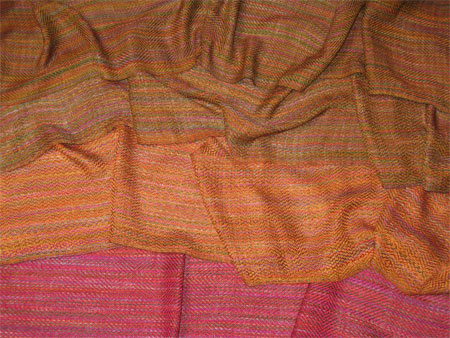 Given my affinity for red, I'd think the bottom scarf would be my favorite, but it's not. I prefer the curry rayon. I suppose since I like the orange Carnations scarf so much I shouldn't be surprised, but I was.
I just gotta keep on weaving to build my stock for this year's shows.