After deciding to unweave the 210+ rows of the attempted curves with the purple rayon, I rethreaded the loom in an Ms & Ws pattern. I've used it plenty of times before and know I like it, and didn't want to take another chance on a new pattern.
First, treadling in a traditional Ms & Ws pattern, I wove with the green weft I'd been trying the curves with.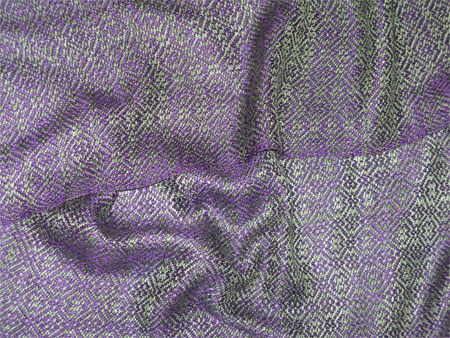 As I hoped, it did look like the lovely amethyst & peridot jewelry I've made. Only in a soft handwoven scarf with gorgeous sheen & drape. I would have woven another one in these colors, but I didn't have enough of the green yarn.
For the second scarf, I used a lavender weft, just a bit lighter than the dark purple warp. I modified the treadling slightly to make it quicker & easier.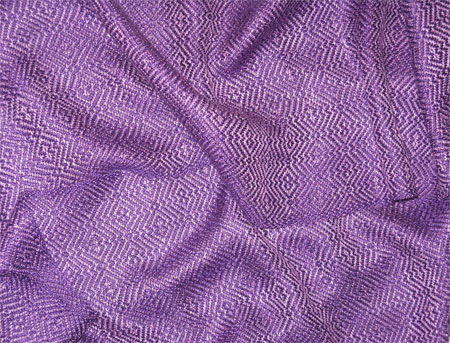 I like the subtlety of this. The closeness of these two colors look almost like one color with depth, as opposed to two separate colors.
For the third one, I used a variegated weft in red, pink, & purple. I used the same modified treadling as for the two purples.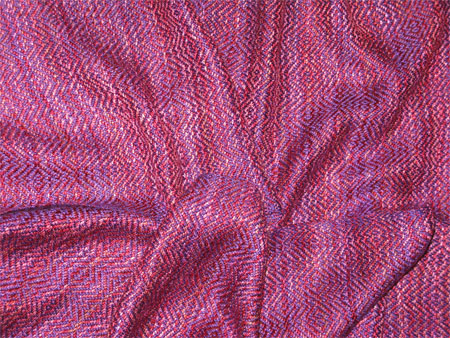 This is my least favorite of the three. The reds in the weft overpower the purple warp, and muddies the pattern so it's difficult to appreciate it. Maybe it'll appeal to a red hat lady. It's also the least successful photograph. I often have difficulty photographing reds, and this wasn't an exception.
I got a few of the cones in my stash emptied. I'm heading back to more of the hand painted yarn for a bit.