I'd ordered quite a bit of yarn, some of it for orders I had, some to build my stock for the spring & summer. While I waited for it to arrive, I couldn't sit idle! I needed to weave with some of my stash.
I decided to use up a bunch of really bright red bamboo I have. But I wanted to tone it down some. So first I paired it with a weft of black bamboo.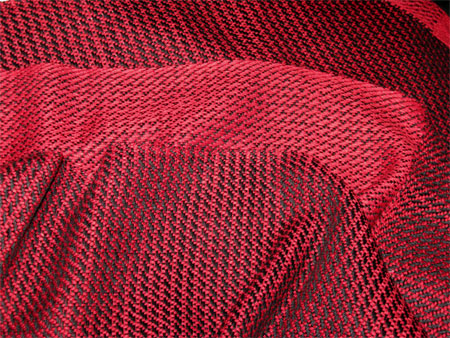 I really like how different the two sides of this scarf look. For me, I prefer the dark side, with black predominating; others may prefer the red side. Here's a close up of the two sides.

It's a very simple 4 shaft threading & treadling to achieve this look.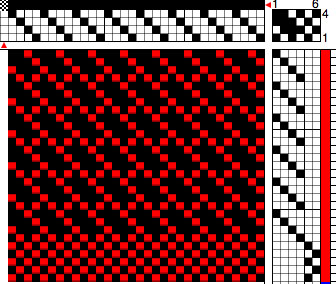 The simplicity makes it even more pleasurable – virtually no counting in either threading or treadling!
Anyway, I liked the black & red, and would have woven a second the same, but, of course, I didn't have enough black yarn. So I decided I'd take the opposite tack. I didn't have white, but I had quite a bit of pale gray. Figured I'd try that.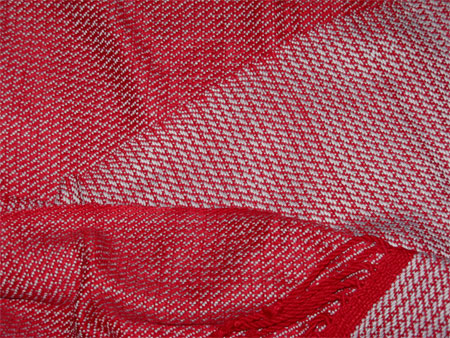 Yeah, now I know why I still have that gray yarn — I'm not fond of it. While I prefer the red predominant side on this scarf, it's far from one of my favorites. I'm betting that it'll end up being something that I donate for a giveaway. Maybe my customers will fool me — they do that with some regularity.
Anyway, I sure didn't want to weave the third scarf with gray, so I opted for a rich navy. But I didn't want to weave the same pattern. I simply changed the tieup & treadling for a whole new scarf.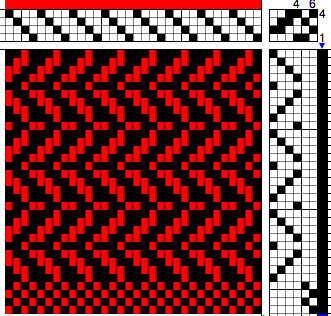 I must say, that while my little counterbalance loom doesn't mind weaving lace, it's not overly fond of tie ups with just one treadle tied to a harness. That treadle slams to the floor every time I step on it, no matter how I tie it. Three harnesses tied to a treadle? No problem? One? We don't like it. 🙁
Here's the finished scarf, both in distance…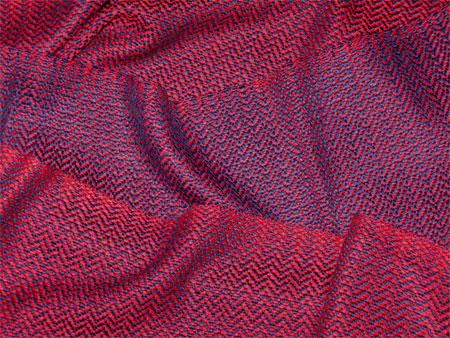 …and a close up.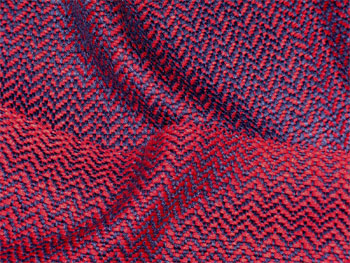 Again, the two sides are quite different, although certainly not as dramatically as the first design. This bamboo has a remarkable sheen, making getting these shots a challenge. I think the end results are pretty accurate. The navy & red create quite an iridescence, while neither the black nor gray do. In this case it's mostly pattern-dependent; those ziggy stripes are close together, not blocks of color like the black & gray.
Your turn: do you have difficulty using up that yarn that only seemed like a good idea at the time?