I've finished making jewelry in preparation for the Letchworth Arts & Crafts Festival. I hit my target numbers for bracelets and exceeded it in both earrings and necklaces. Here are the remaining necklaces I've recently created.
Rather than reinventing the wheel, I decided to continue with my earlier pieces and make some more necklaces with center dangles. While none of them are exactly alike and I have to make adjustments for every one due to bead size, weight, and color, once I'm in a mode it's easier for me to stay on it than to switch gears entirely. So I made a necklace with some nice poppy jasper I had.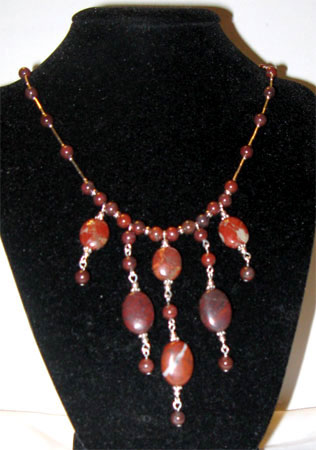 Then I decided to slide sideways into a necklace with a different kind of dangle. This is made from gold coral. (I believe it's dyed.)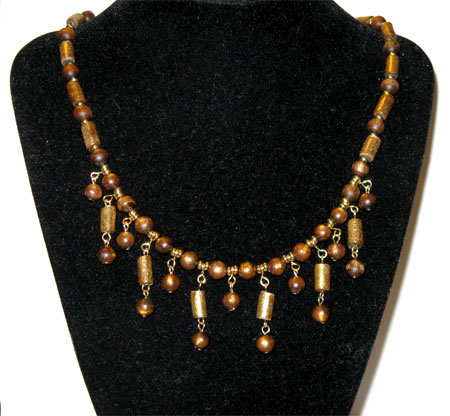 Sticking with the coral, I made also one that makes a much bolder statement. The coral is so lightweight, this necklace is surprisingly light around your neck. It will be just perfect for the right person.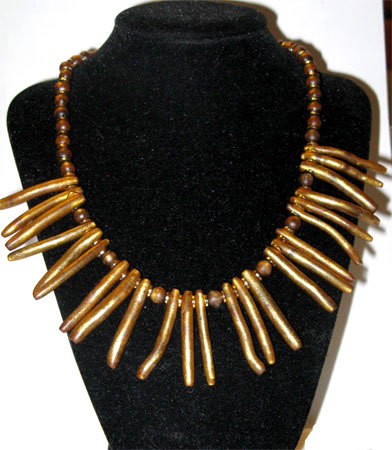 After I put the coral away, I was going through one of my drawers for the next inspiration, and came upon some beautiful, large, horn rondelle beads. They were just the ticket for a whole different type of necklace. Pairing them with a variety of agates for a big, chunky necklace seemed the right move. I added a thick handmade copper toggle clasp, making it so the necklace can be worn with the clasp in the back, the front, or on the side.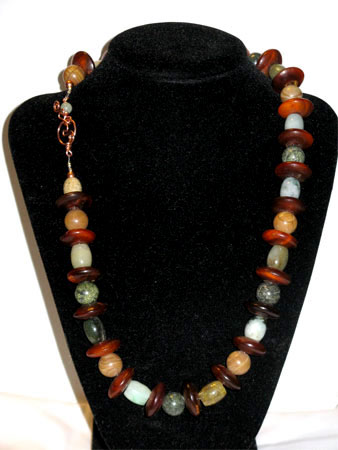 Now for the pièce de résistance. In the spirit of full disclosure, I admit that this wasn't the last piece I made; I've been saving it to show you at the end. Every year the Letchworth Festival has competition. Artists and crafters can enter two pieces: one in their category (in my case for this show, jewelry), and one in the annual theme. I only entered a piece in the theme category one other year, as I never had anything that struck me as appropriate for it.
This year's theme is harmony. Several days ago as I was sitting at my dining room table (where I create the jewelry), out of the blue I got an inspiration. The old duet between Paul McCartney and Stevie Wonder started playing in my mind; you know the one – Ebony & Ivory. I sang it through mentally a few times without thinking about it, just enjoying the old classic song.
Then the lightbulb went off! When I got rid of that ancient, broken player piano that sat in my damp basement for years, I purposely pulled off the ivory from many of the keys. I had that ivory sitting in an old peanut butter jar in my cupboard. I could use that ivory and some onyx to make a necklace in the harmony theme. It would have been ideal if I had also saved some of the ebony keys, but I didn't.
Initially I thought I'd create a rather literal interpretation of a piano keyboard, but as I got into the design, I changed my mind, and made a necklace more loosely based on a keyboard. I've only shown it to one other person at this point, and Margaret loves it. She's such a good friend she's not necessarily objective, though. So here's the big reveal.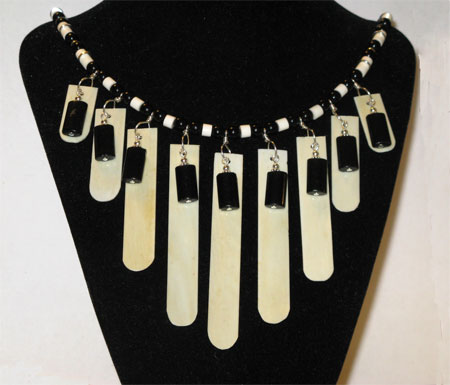 I have no idea how it will be received at the show, but in the end, it doesn't really matter because I'm happy with it.
Your turn: have you ever won a prize because of your work?