At the Kenan show I sold 2 shawls and donated a 3rd as a door prize. I only had one shawl left, so making some more was a big priority before the Roycroft.
As soon as I got home I ordered some lovely undyed silk, but it hasn't arrived yet, and won't get here in time for me to weave with it before the show.
I had to make several things, so using fibers that would work up quickly was a serious goal. I decided to use up some of the variegated cotton flannel I have in pinks and purples.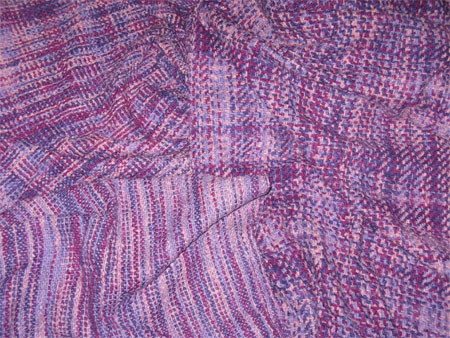 I threaded my counterbalance loom in a straight draw (1,2,3,4,1,2,3,4…), and sett it at 9 ends per inch. The first shawl, on the left, I wove in a tabby. I was a bit surprised at how the colors seemed to turn into little windows.
For the second shawl, in the middle in the photo, I used tabby again, but this time I used a thick & thin lavender cotton. I think I like this one better than the first, but somehow it looks sort of rag-rugish to me.
The third, on the right, is definitely my favorite. I used that same variegated yarn for weft, but wove it in a simple twill. I like what it did with the colors.
The cotton flannel is really soft, and I think the colors will be popular. Without touching it, people might think it's too warm; fortunately I encourage feeling my finished pieces, and when they feel this one, they'll see that it's perfect for a summer evening.
Day 2, stay tuned for my next weaving….