After those lovely copper scarves, I decided to stick with the earth tones for a while. I moved to another of Tammy's handpainted yarns, this time a rayon in cappuccino.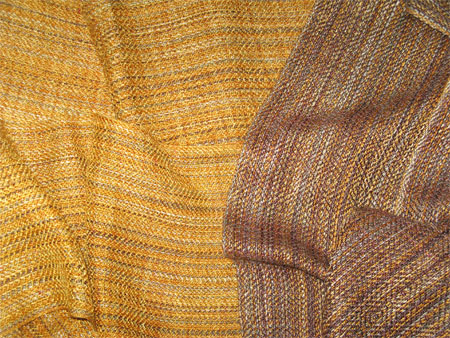 I'd first used this colorway back in February with rayon chenille. I loved it, and decided I had to have it available in a lighter-weight scarf.
First I made sure that my treadles were tied up the way I wanted them to be. 😉 Then I wove the scarf at the top of the photo, with a solid butterscotch weft, in my interlocking diamond pattern. I just loved the color, but the weaving pattern still wasn't as prominent as I'd intended.
So for the second scarf I went with a solid chocolate brown weft. Even with that contrasting color for the weft, the diamond pattern is still quite subtle. And the entire scarf is much more subdued than is my personal favorite.
For the third scarf I returned to the butterscotch weft for another golden scarf. Since the pattern wasn't doing so much visually, this time I opted for a straight twill – requires far less thought in the treadling.
This was one of the many handwoven scarves I recently posted on my website. I am positive that they will get snatched up at my shows this season, if they last that long. 🙂