My dialup and limited time had caused me to stop visiting Carmi's site, but I'm getting back in the habit.
His photo theme this week is orange. Although I missed capturing almost all of the July photos this year, I did catch a few good ones.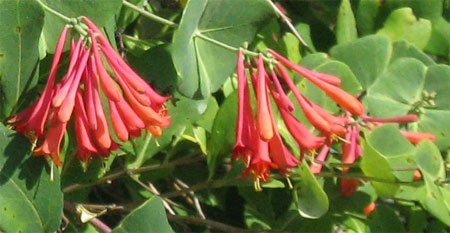 This honeysuckle vine really draws the hummingbirds to its orange trumpets. I have it in a few places around the house, and like it. But it doesn't compare to the variegated honeysuckle — although that's not as showy, it smells really wonderful in the morning and evening when its in flower.
Your turn: play along with Carmi, or share what's growing in your garden, regardless of color.