I'm quite a home body. I'm more comfortable staying in my little corner of the world than traveling. I think it's the safety of the known versus the excitement of the unknown. Somehow I feel like my life includes plenty of excitement already, and plenty of unknowns. Little things mostly, but either I have an incredibly small desire for that adrenalin rush, or I unwittingly create my own rushes through mental machinations.
That being said, I have taken some really marvelous trips to far away places. Unfortunately, all those pics were taken with a film camera, and I don't have a scanner so I can't transfer them to a digital medium. So my version of Carmi's On The Road challenge of the week is from my own road.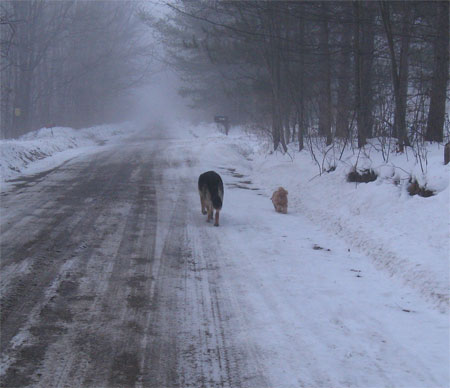 I walk on my dirt road daily. Most times twice a day. It gets me outside, gets any sunshine that exists on my face, and the hill really gets my heart pumping. Living on a dirt road with very little traffic, it also gives little Red a chance to run and explore safely, without having to battle the way-over-his-head weeds that field walks mean.
When we're lucky, Red's friend Marley joins us at the top of the hill and walks with us for a while. These two dogs couldn't be more different in terms of size, coloring, or temperament, but they really like each other. They walk, they run, they bare their teeth, they jump and twist. And of course, they sniff each other's butts. Marley's gentle with his little buddy, and Red gets a chance to be a bit more assertive than usual. This shot shows them just enjoying a winter day together. I like both the dog counterpoint and the fogginess of this shot.
Your turn – join in Carmi's game, or tell me about your dog's friends.