If you're a Rachel Ray fan, you know that EVOO is extra virgin olive oil. And if you're an olive oil lover, you know that the color ranges for a variety of reasons, but in general, high quality EVOO is a relatively dark green, but lighter colored oils are also lighter in flavor, and might be preferred at times.
I'm not suddenly switching to giving you recipes or food advice; all that is preface to this new batch of scarves.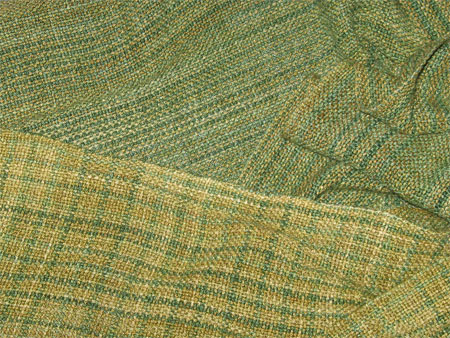 Tammy calls this colorway Olive Oil, a fitting name. Â This shows the major difference that changing the weft yarn can make. Â These two handwoven scarves were made on the same warp, a handpainted bamboo-cotton blend. Â In the top scarf I used a solid green weft, the same color as the dark green in the variegation. Â The result is a dark, striped scarf. Â For the bottom scarf has the same weft as warp, creating a relatively uniform plaid.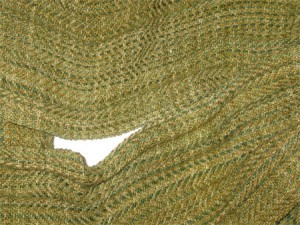 For the last of this warp of three, I used a solid bronze weft, hand dyed in the same color as the the medium color of the variegation. Â I wove this one in a point twill, while the first two were both a tabby weave. Â Actually, I had tried both of those first wefts with a point twill, and really hated them. Â There was way too much going on with the combination of the colors and the weave pattern.
I was happy with the pink infinity scarf, so decided to make this bamboo-cotton twill into an infinity scarf as well. Â I'm working on getting some more feedback before I make too many of them, but I do think I like them.
By my count, these three handwoven scarves bring my count up to 14 for the month (8 placemats, 6 scarves) of February, so I'm right on target with Jan's Scarf A Day challenge, particularly since we only count 5 days/week. Â But I fear Jan's been ill and is falling behind. Â Hope she catches us up on her activity soon!