Roycroft Renaissance Artisan
Watch for more
handmade lace scarves and shawls, or contact me to order a scarf or shawl that's handwoven just for you, in the color, size, and fabric that makes your heart sing.
Handwoven Lace Scarves and Shawls
My handwoven lace scarves are the perfect adornment for a night on the town or a business meeting, a holiday gathering or when you want to impress someone with your style.
Although often thought of as dressy, these hand made scarves can also be worn casually with a pair of skinny jeans or dress pants and a simple, classic top. Let your imagination soar as you find new ways to wear this beautiful fashion accessory.
Click on any scarf to enlarge and get more details.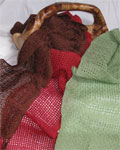 Handwoven Lace Scarves in Assorted Colors, Patterns, & Fabrics
Five colors, four patterns, two fabrics, all beautifully feminine.

Sold out

Contact me to see what other lace scarves I have in stock, and visit my blog to see what I'm weaving now.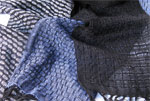 Handwoven Lace Scarves
Black Variations
A variety of looks in black with color and pattern interest


Temporarily sold out. Contact me to special order.
About Handwoven Lace
By its nature, lace is made from very lightweight yarns - actually more like threads than yarns. Lace can be designed to be soft and supple, like the scarves and shawls featured here, or stiff. (Think of those Victorian collars). Stiff lace is still made from very thin yarns, and is then starched to add its characteristic body.) I only make lace designed to swaddle your neck with its softness.
Learn more about the process I use to make handwoven lace on my blog.
Treat all of your handwoven scarves, regardless of fabric, as fine delicates. Hand launder in a mild soap and lay flat to dry. Do not wring or twist.