Victorian Christmas Ornaments
Although these beautiful hand-beaded glass Victorian ornaments were designed as Christmas decorations, they're so beautiful you'll want to leave them out all year long! And there's no reason not to.
Start with them on your Christmas tree and move them to ornament stands after the tree comes down. The Victorian loveliness of these glass hand beaded decorations will look great on your mantle, your lamp table, or even your bathroom counter for months. Interestingly, once the holidays are over, they simply look like opulent Victorian decorations, not like Christmas ornaments you forgot to put away.
All of my Christmas ornaments are one-of-a-kind, hand beaded glass, made individually right here in rural, western New York state. I like to make them all year long - it's a great way to enjoy the outdoors while I sit on my shady August porch and overlook my pond, or to have a reason to listen to my favorite Christmas music when the cold February winds blow, and every month in between. My Victorian Christmas ornaments are all made like little covers - you can easily slip them off the top of the glass ball (included with your purchase). Change the color of the underlying glass globe and you can entirely change the look of the decoration. It's also reassuring to know that if this hand beaded ornament slips from your fingers while you're trimming the tree, you haven't lost it all - simply place the cover over an new glass orb and you're ready to go.
These Victorian decorations are sure to attract lots of admiring looks no matter how you show them off!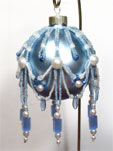 Button Swag
Ornaments
Glass beads provide hanging points for four to six swags for an opulent Victorian Christmas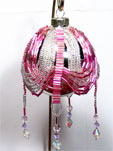 Double Swag
Ornaments
The Victorian beauty of overlapping swags of bugle beads and seed beads connected with more bugle beads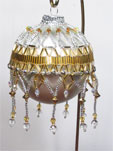 Belted Ornaments
Reminiscent of hot air balloons, these belted Victorian Christmas ornaments add grace to your home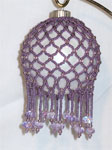 Netted Ornaments
Intricate beaded netting surrounds a glass globe for a beautiful Victorian decoration